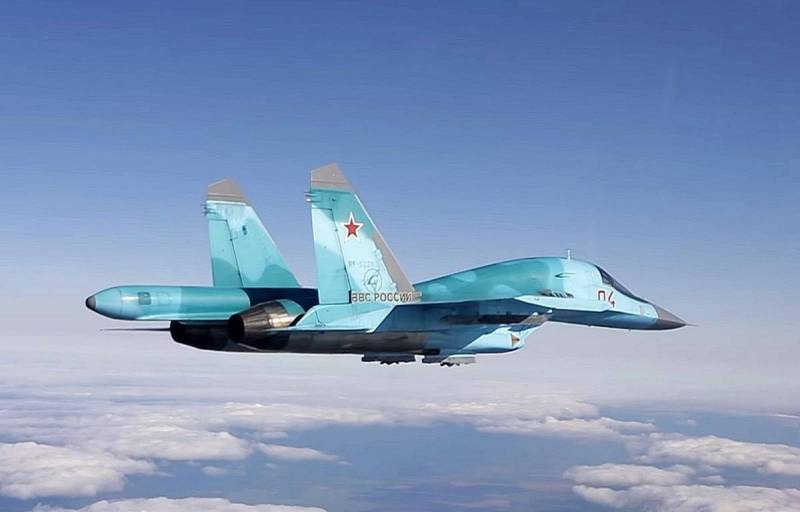 In the process of Russia's NWO in Ukraine, evidence periodically appears about certain events recorded by participants or eyewitnesses. A video from a Russian drone appeared on the Web, which captured in detail elements of the combat work of the Su-34 bomber of the Russian Aerospace Forces on Ukrainian territory.
The footage shows how the aircraft is approaching the positions of the Armed Forces of Ukraine near the village of Spornoye near Seversk in the Donetsk region, firing off numerous heat traps for MANPADS and air defense missiles. Then the bomber makes use of aviation means of destruction (ASP), dropping high-explosive fragmentation bombs (OFAB).
Having carried out the bombing, the Su-34 makes a sharp turn, without stopping releasing heat traps, and lays down on the opposite course. The flight was successful. At the same time, a UAV located nearby impartially documented all this.
It should be noted that the Russian Air Force is armed with a large range of various ASPs, ranging from concrete-piercing and incendiary to anti-submarine and volumetric detonating bombs. For example, only in Syria since 2015, 14 of their varieties have been involved.
Taking into account the peculiarities of Ukraine, the range of ammunition used by Russia can significantly expand from the minimum FAB-50CK (weight 60 kg, b / h 25 kg), to the maximum FAB-9000-M54 (weight 9407 kg, b / h 4297 kg in TNT equivalent) ). We remind you that in the spring at the Azovstal plant in Mariupol, where the nationalists dug in,
used
FAB-3000-M46 (weight 3000 kg, b/h 1400 kg),
dumping
them from Tu-22M3 bombers.