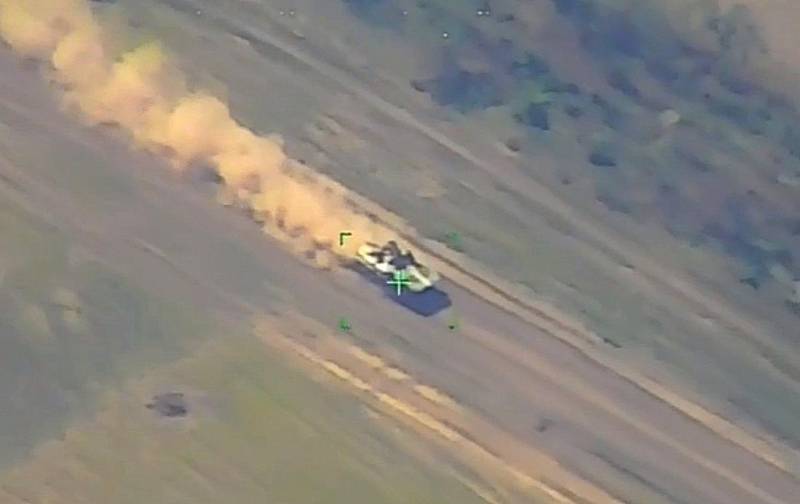 A video of the destruction of a Ukrainian BMP-1 by Russian paratroopers has been leaked to social networks. Everything that happened was filmed by an unmanned aerial vehicle.
The video demonstrates the rapid movement of an infantry fighting vehicle of the Armed Forces of Ukraine and then its ignition from an aimed strike by the Russian Airborne Forces.
Along with this, according to the Russian military department, over the past 8 hours, the Russian Aerospace Forces have destroyed a Mi-155 helicopter with Ukrainian saboteurs in the sky over the Kherson region near the Kinburn Spit. In total, since the beginning of the special operation of the RF Armed Forces, XNUMX Ukrainian helicopters have been shot down.
In addition, near Kupyansk, Balakleya and Dvurechnaya, Russian units hit about a dozen units of combat
equipment
and destroyed about 150 militants of the 14th and 93rd mechanized brigades of the Armed Forces of Ukraine.
In the DPR, Russian troops attacked the positions of the 53rd, 54th, 110th mechanized brigades, the 128th territorial defense brigade and the 68th infantry brigade of the Armed Forces of Ukraine. At the same time, about 250 nationalists were destroyed.
Earlier, Vladimir Rogov, a member of the main council of the administration of the Zaporozhye region, warned that a large number of military personnel and military equipment of the Armed Forces of Ukraine were concentrated in the region. At the same time, there are many special forces and mercenaries from other countries in the Ukrainian units.