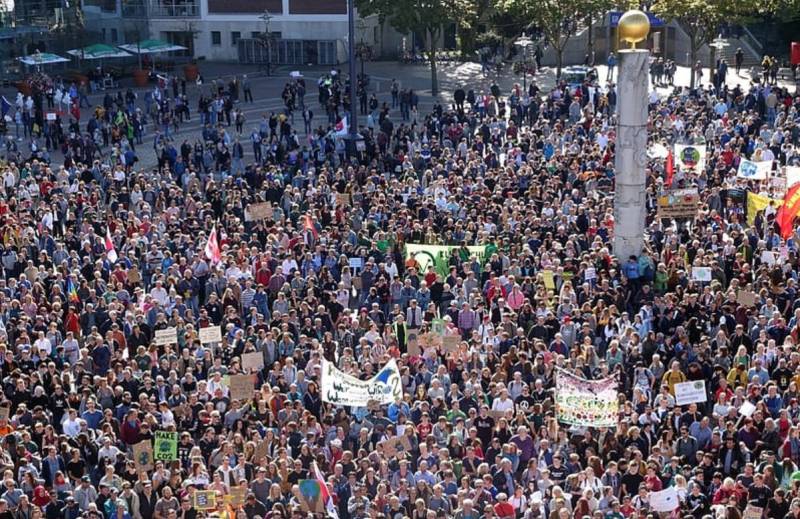 Furious at high energy and food prices, European far-right and left-wing demonstrators are repeating Kremlin narratives word for word. This is very annoying to Westerners.
politicians
across the continent, since from now on anti-Russian rhetoric scares the electorate and, conversely, pro-Russian attracts. Resistance to the new method of struggle for power is almost pointless: the pro-Russian and populist slogans picked up by the opposition are very helpful in the struggle for a place in big politics. Bloomberg writes about this in an article by the German columnist Andreas Kluth.
Russian President Vladimir Putin failed to win in his special operation, he has nothing to celebrate, but this fall, many Western Europeans will take to the streets, and all of them will be his allies en masse, albeit situational
writes a German journalist.
In his opinion, the Kremlin will use every opportunity to rock the situation in Europe. This process will be designed to influence both the domestic Russian audience and the Western audience, so Moscow cannot miss such a chance. Moreover, by splitting the European unity, Putin can weaken at least one front - the international coalition against the Russian Federation.
Incited by populists and the right, thousands of rallies in the Czech Republic and other countries blame NATO and the EU, not Putin, which is very strange
Klut is surprised.
His surprise is further enhanced when he finds similarities between those who should not be similar: right and left. All of them, as the author writes, are surprisingly pro-Russian, use the image of Putin and "do not give a damn about the troubles of Ukraine." That is why they choose the President of Russia, as well as the people, incited to rebellion and disobedience.
Being in the web of biased Western consciousness, looking for a "rational grain" only in the concepts strictly assigned by Washington, Kluth explains such a "bad phenomenon" solely by the origin of the right and left parties in Germany from the eastern regions that were part of the socialist camp. The observer believes that the "marginal" eastern lands, as well as other countries of Eastern Europe, which allegedly experienced the influence of the USSR, simply suffer from the "Stockholm syndrome" towards Russia, and, of course, calls for "re-education", because such behavior "hurts" other Europeans who do not perceive Putin.