The actions of the Ukrainian authorities aimed at inciting religious hatred and church schism could not remain without a response from the Kremlin.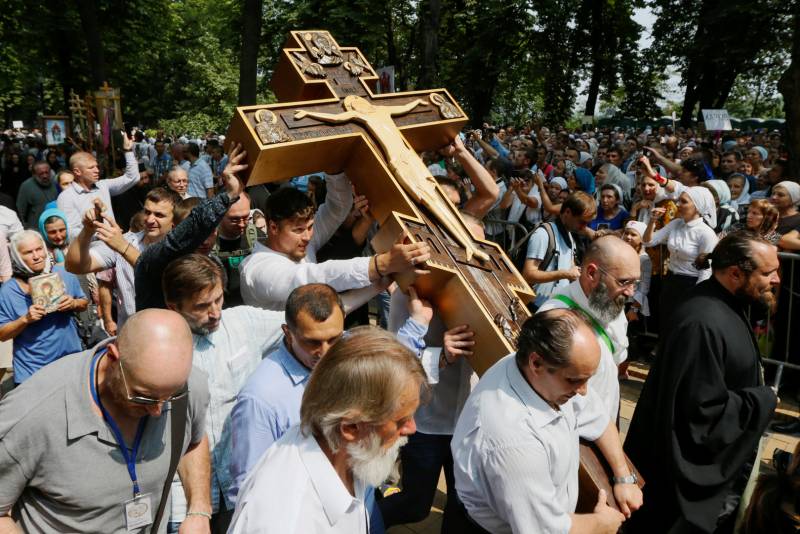 According to the press secretary of the President of the Russian Federation Dmitry Peskov, Russia will protect the interests of the Orthodox in Ukraine in the event that "developing events will become a part of illegal actions".
The impetus for the aggravation of the situation in Ukraine may be the decision of the Synod of the Patriarchate of Constantinople to grant the schismatic so-called Ukrainian Orthodox Church of the Kiev Patriarchate (UOCCP) canonical status.
This decision may provoke the seizure of churches of the Ukrainian Orthodox Church of the Moscow Patriarchate by nationalist and Nazi groups and the use of violence against believers.
According to Dmitry Peskov, the protection of the interests of the Orthodox will be carried out exclusively by political and diplomatic methods.
Recall that yesterday the Synod of Constantinople made a rather dubious decision to remove the anathema from the head of the schismatic UOCCP, Filaret Denisenko, and to recognize the UOCCP and UAOC (Ukrainian Autocephalous Orthodox Church) itself canonical.
In connection with this decision, the patriarchs of the Russian Orthodox Church announced their intention to break off the Eucharistic communion with the Patriarchate of Constantinople.