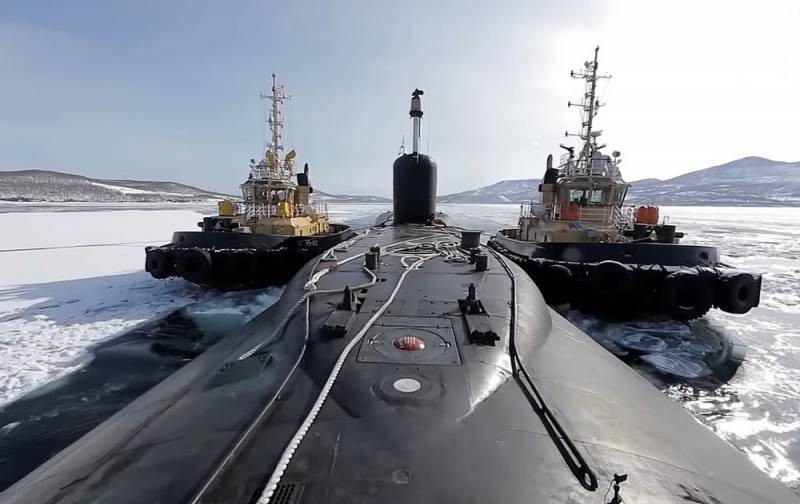 The strategic submarine Generalissimo Suvorov is undergoing factory sea trials in the White Sea. If the latter are successful, the nuclear submarine will be placed at the disposal of the Russian Navy ahead of schedule by the end of this year.
It is worth noting that the Generalissimo Suvorov is already the third submarine of the improved Borey-A fourth-generation project, in which fundamentally new technical solutions are implemented.
The nuclear submarine was laid down in 2014. Underwater displacement of "Generalissimo Suvorov" is 24 thousand tons, surface - 14720 tons. The submarine is capable of diving to 480 meters and moving underwater at a speed of 29 knots (54 km/h).
From armament, the strategic submarine received: 4 torpedoes of caliber 533 mm and 650 mm, RPK-6M "Waterfall" and 16 solid-propellant ICBM R-30 "Bulava" with a nuclear warhead.
In the light of recent announcements by the British and US authorities, which intend to upgrade their nuclear submarine fleet, the commissioning of our new nuclear submarines is extremely timely. True, the States plan to carry out rearmament by 2040, and Britain does by 2060.
At the same time, in Russia, in addition to the Generalissimo Suvorov, which is undergoing sea trials, 4 more Borey-A submarines are already being built and, apparently, they are preparing to start building two more, thus working ahead of the curve.