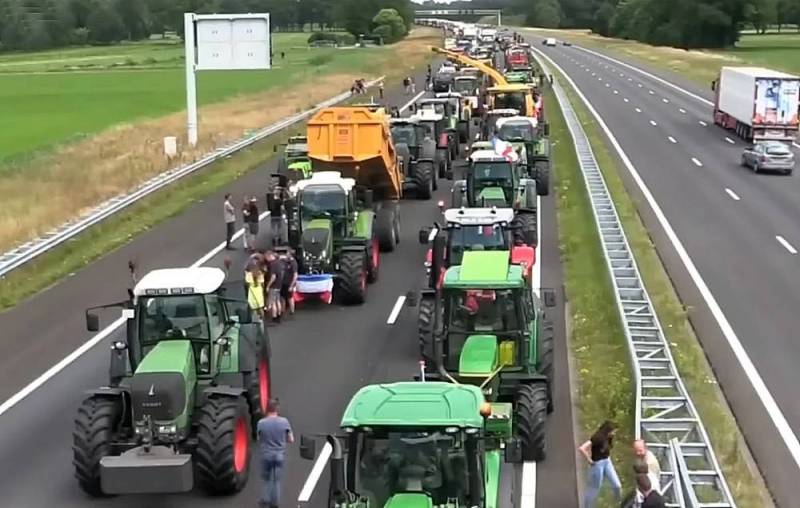 Crisis processes in Europe continue to grow. This can be seen from the change in the protest of European farmers, who moved from rallies, blocking roads and throwing manure at officials to more serious actions. Now they have begun to destroy their crops and close production because of too high prices for feed, fertilizer and electricity.
European agriculture is now in shock. Local farmers are on the brink of survival. Previously, they were worried about the new "environmental agenda", now an energy crisis with astronomical price tags has been added to it. Therefore, farmers, in order not to go bankrupt, are trying to draw public attention to their problem. As long as there are a lot of products on the shelves of European stores, they are unlikely to be heard and understood. In this regard, they decided to take extreme measures, and the supply of cheap food from Ukraine is unlikely to greatly help the European bureaucrats to get out this time.
In Norway, farmers have destroyed crops in the bud, as harvesting and storage will cost more than the production itself. Nordic Greens, Sweden's largest tomato grower, is shutting down production before warmer weather arrives due to unsustainable energy costs. Maintaining the temperature regime in greenhouses (160 thousand square meters) with tomatoes has become impossible, and they will not be grown in the winter of 2022/2023.
In the Netherlands, meat and milk producers have been literally living on the streets of cities for several months, along with their
technique
, periodically arranging brawls with the police. In a small kingdom known for its hardworking farmers, 11,2 thousand farms will be closed due to government commitments to reduce methane emissions into the atmosphere. The minister of agriculture there recently resigned, but this did not affect the situation.