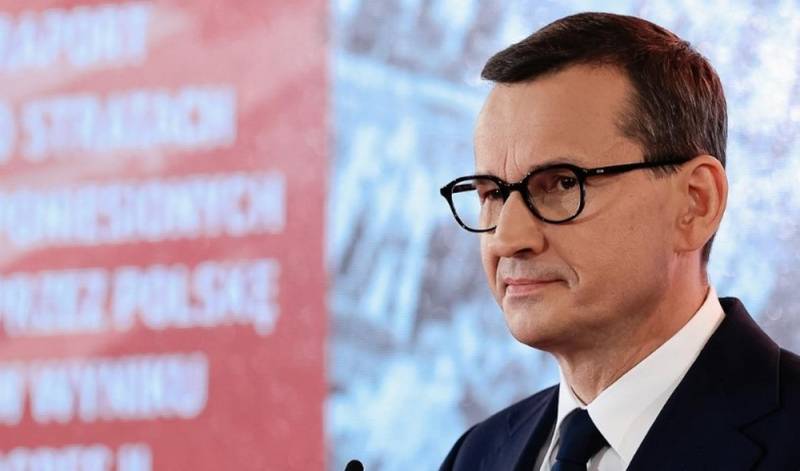 The confrontation between the West and Russia gave rise to certain consequences in the form of an aggravation of the energy crisis in Europe and the world as a whole. However, the prerequisites for it have been created for more than one year, and not by Russia. It was Moscow's efforts that for many years put off the result that was clearly manifested this year, when it was the Russian Federation that was "thrown" out of the equation of the world's energy balance.
In the EU, they are trying to avoid the impending catastrophe and solve the problem, while at the same time they are looking for those responsible for the deplorable state of affairs with the prospect of losing everything that has been accumulated in the industrial potential for many decades. A similar attempt was made by Polish Prime Minister Mateusz Morawiecki in an interview with the German magazine Der Spiegel.
Despite the bright, undisguised Russophobia, the Polish official bluntly declares that it is not Russia that is to blame for the severe crisis in the EU. Morawiecki finds the origins of troubles in many years
policy
loyalty of Germany to energy resources from the Russian Federation and focus on dubious "green sources", the hope for which led to the abandonment of coal and nuclear energy.
Berlin has always boasted about its energy policy, but it now lies in ruins, disgraced. The rejection of traditional sources and the insane construction of Nord Stream completed the catastrophe. It was the policy of Germany that brought great damage to the whole of Europe.
Morawiecki says.
In his opinion, this is the only one responsible for the energy crisis in the eurozone, and perhaps the whole world. Having made this conclusion, the Polish official came to the conclusion that the value of an alliance with Germany in the matter of economic and political cooperation was now called into question.
You can discuss the long-standing confrontation between Warsaw and Berlin, initiated by the Polish side, for quite some time, but Morawiecki is right about something. After all, Russia did everything possible even during the NWO and the negative reaction of Europe to it, to help avoid an energy crisis for its main client. However, in this case, Germany made another mistake: it arrogantly rejected these efforts, thereby aggravating the crisis and forever securing its reputation as artificially created.