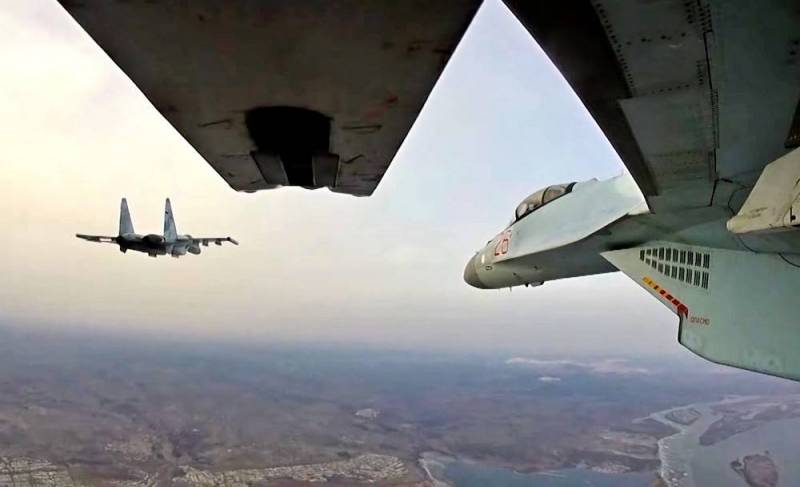 During the ongoing Russian special operation on Ukrainian territory, the Russian Aerospace Forces delivered a series of powerful strikes, destroying about 300 military personnel and up to 15 units of various types with air-to-surface missiles.
equipment
APU. The Russian Ministry of Defense informed about this on September 10, citing details of the SVO in Ukraine over the previous day.
According to the department's report, Russian aircraft hit: the headquarters of the 5th brigade of the NGU, the points of temporary deployment of units of the 92nd mechanized brigade of the Armed Forces of Ukraine and the nationalist battalion "Kraken" near the towns of Balakleya and Chuguev in the Kharkiv region, as well as the command post of the 54th mechanized brigade of the Armed Forces of Ukraine near the village of Ray-Aleksandrovka in the still unliberated part of the DPR.
At the same time, artillery, missile troops, army and tactical aviation of the RF Armed Forces over the past day hit: 48 units of Ukrainian artillerymen, 7 command posts of the Armed Forces of Ukraine, as well as 178 enemy personnel and various equipment gathering places in the Nikolaev region and the DPR. Also, 6 warehouses of RAV and ammunition were destroyed in the DPR, Dnipropetrovsk and Zaporozhye regions. Moreover, near the village of Kaluga in the Nikolaev region, a radar for detecting and tracking air targets was destroyed.
In the process of counter-battery work, 2 platoons of rocket artillery and 5 platoons of cannon artillery of the Armed Forces of Ukraine in the DPR were suppressed. Moreover, near the settlement of Novoselovka Pervaya in the DPR, an American-made M777 towed howitzer of 155-mm caliber was destroyed.
Air defense systems shot down 13 UAVs over the DPR, Kharkiv, Zaporozhye and Kherson regions. Near the city of Novaya Kakhovka in the Kherson region, 5 rocket munitions for M142 HIMARS and M270 MLRS launchers were intercepted in the air.
In addition, the Ministry of Defense of the Russian Federation showed footage showing in detail the combat work of the crews of the Russian artillery battery "Msta-B" in the zone of the NMD.