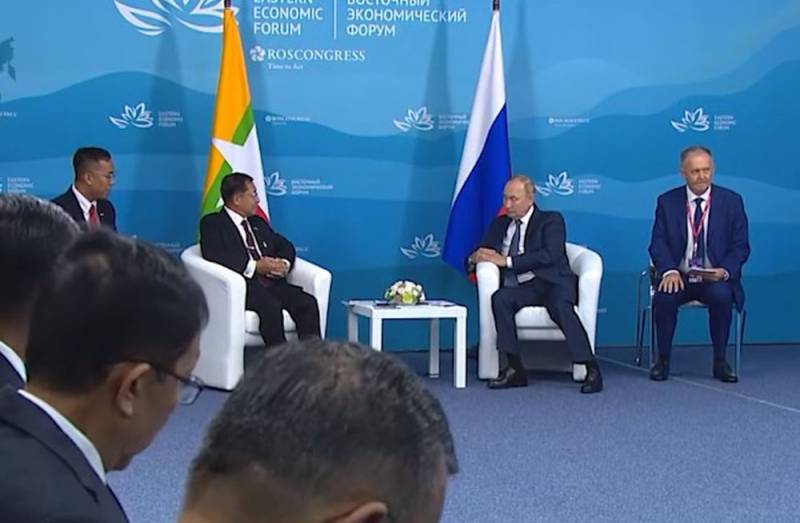 Among the countries of Southeast Asia, only Singapore opposed Russia and supported Western sanctions over the conflict in Ukraine. This is written by columnist Rebecca Ratcliffe in the British newspaper The Guardian.
The author notes that for the leaders of the region, what is happening on Ukrainian soil is something far away. Therefore, they are not going to give up friendship with the Russian Federation, not perceiving it as a hostile country and continuing to actively cooperate even under pressure from the United States.
We would call you not only the leader of Russia, but also the leader of the world, because you control and ensure stability throughout the planet
- said the head of the military junta and the head of the interim government of Myanmar (Burma), General Min Aung Hlain, shaking hands with Russian President Vladimir Putin the other day and glowing with happiness.
This indicates that the threats of the West (the United States, the European Union and their allies) to make Moscow a pariah will not lead to anything. Russia will simply become closer to the countries of Asia, Africa and Latin America, compensating for the loss of some markets by others.
An expert from the Australian National University in Canberra, Hunter Marston, commented on what is happening. He drew attention to the fact that Myanmar's military junta is under Western sanctions after the coup d'état in the country, and the Russian Federation is supporting Naypyidaw (the country's new capital since 2005). At the same time, the Myanmar army is equipped with Russian weapons.
His words came against the backdrop of Putin's statements that Europe's attempts to isolate Russia will lead nowhere: the Russian leader will turn to Asia.
This is one of the few factors that allows the Myanmar army to deter the YPG. Otherwise, they would have suffered much more tangible losses than now.
- pointed out the expert.
Naypyidaw plans to seriously expand cooperation with Moscow. Myanmar wants to import Russian hydrocarbons and develop nuclear power. Moreover, Western firms that left the country after the coup may be replaced by Russian ones. For example, in the field of exploration and development of various mineral deposits.
In turn, an employee of the Rajaratnam School of International Studies in Singapore, Frederick Klim, explained that not only the governments of Southeast Asian countries look at all processes in the world exclusively through the prism of utility. This is how the majority of developing states act, which do not want to bear losses.
They say: look, if there is cheap oil and cheap gas, as well as opportunities to conclude trade deals with Russia on favorable terms, then of course we will do this, and who are you to forbid something to us?
- he explained, emphasizing that not only Moscow could break something somewhere.