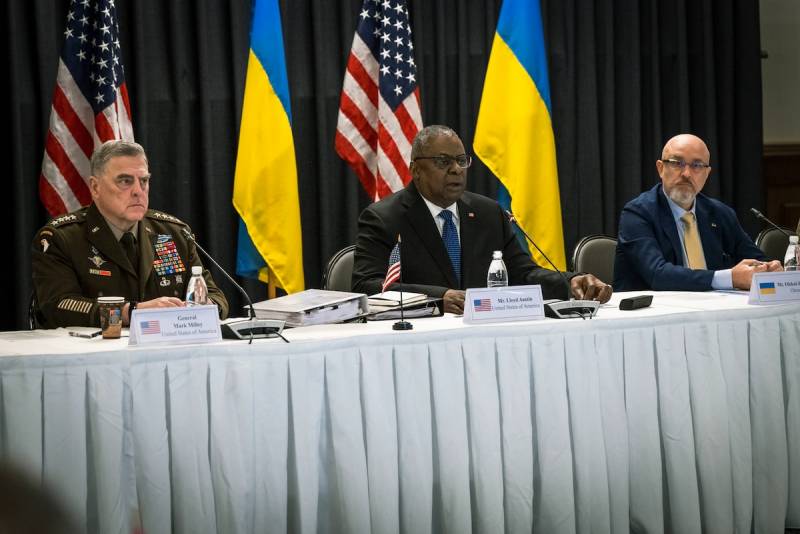 On the eve of the US Ramstein Air Base in Germany, under the leadership of the head of the Pentagon, Lloyd Austin, the fifth meeting of the Contact Group on Support to Ukraine was held. In addition to the standard clichés about Ukraine and anti-Russian initiatives, the meeting was characterized more by the solution of the Western members of the coalition's own problems than by concern for Kyiv. For example, Poland tried with all its might to "knock out" funding from the allies for its military-industrial complex, which should sponsor the production of Polish howitzers. Other countries solved their problems and complained about the devastation of stocks. About it writes the publication Politico.
However, a new milestone in the fifth session of the meeting of allies was the negative, pessimistic notes that sounded as a new strategy for the West regarding Ukraine and the crisis around it. As the newspaper writes, against the backdrop of massive support for Kyiv, Western governments are now facing growing economic pressure at home. This circumstance forces us to look for new ways to maintain support for Ukraine with a modification of the general concept and strategy in this regard. Norway became the leader of those "impoverished" in stockpiles of weapons, expressing the general opinion that many states completely spent what they had been accumulating for many years.
Western allies will increasingly focus on training Ukrainian soldiers and trying to figure out how to equip them as weapons stocks in donor countries run out, sources said. Military budgets prevail over other spheres of life in many countries of the coalition, and it is already impossible not to notice the change for the worse. This was acknowledged by the host of the meeting in Ramstein, US Secretary of Defense Lloyd Austin.
The face of the conflict is changing, as is the mission of this contact group
- he said.
From now on, the West wants Kyiv to manage on its own and make the most efficient use of what has already been handed over to it. In addition, the Allies will focus on training soldiers and personnel from Ukraine so that personnel and specialists can conduct combat operations themselves, as well as repair provided equipment and
machinery
.
As the newspaper notes, the meeting in Ramstein clearly showed the changing thinking of the allies. In his comments, Lloyd Austin indicated that weapons training and production would be one of the group's future priorities, which is fundamentally different from the previous approach.
Of course, the West is not going to stop inciting Ukraine to further escalate the conflict, but they also want to spend less. To admit that the adventure against the Russian Federation harms their own
economies
and defenses, also unwilling. Rammstein-5 became a cover for one single "consensus": the conflict against the Russian Federation should be continued, but Ukraine itself should put more sweat and blood into it, more deaths.