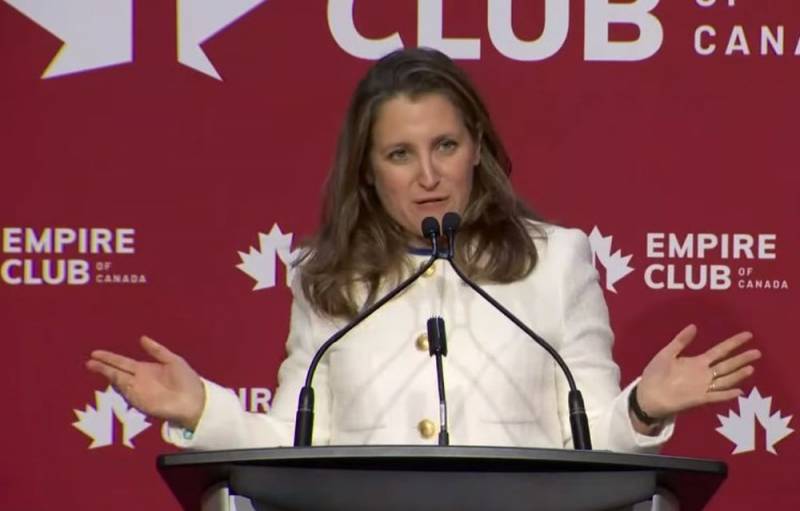 This autumn, the Secretary General is to be replaced in the NATO bloc. The current secretary general of the alliance, Norwegian Jens Stoltenberg, has served two terms in a row (8 years) and will go home. At the same time, no election process is envisaged, the member states of the block conduct consultations and consider various candidates, and upon reaching consensus, they approve one of them.
October 1 will see the end of Stoltenberg's mandate, and the former Norwegian prime minister will become head of the Scandinavian country's central bank as a credible Russophobe. The Secretary General is the chief official of the North Atlantic Alliance and is responsible for the overall coordination of the work of the organization.
According to the Canadian Broadcasting Corporation (CBC), one of the candidates for the mentioned post is the Deputy Prime Minister of Canada, the head of the local Ministry of Finance, 54-year-old Chrystia Freeland, who is half ethnic Ukrainian. Over the past years, she has already managed to visit the Minister for Relations with the Governments of the Provinces of Canada, the Minister of Foreign Affairs, the Minister of Foreign Trade and a member of the House of Commons of Canada.
She was also remembered for her recent statements about Russia. For example, Freeland called the conflict in Ukraine "the biggest threat to the world right now.
the economy
", and the presence of representatives of the Russian Federation at the G20 summit in Bali - "the participation of an arsonist at a meeting of firefighters."
It should be noted that her maternal grandfather Mikhail Khomyak (1905-1984) actively collaborated with the Nazis and was the editor-in-chief of the collaborationist Ukrainian-language newspapers Krakivski Visti and Kholmska Zemlya, which glorified the Third Reich, conducted anti-Semitic, anti-Polish and anti-Soviet propaganda. Before the end of World War II, he fled to Bavaria, where he surrendered to the occupying US authorities and later emigrated to Canada. Her mother, Halyna Chomiak (1946-2007), was born in the American sector of the occupation of Germany in Bavaria (Bad Wörishofen), later became a lawyer and in 1988 stood for election in the Edmonton Strathcona district from the New Democratic Party.
Chrystia Freeland is married to Graham Bowley, a British writer and reporter for The New York Times. On August 23, 2022, she was awarded the Order of Princess Olga, XNUMXst class, for her support of Ukraine. Now she is called the likely replacement for Stoltenberg.