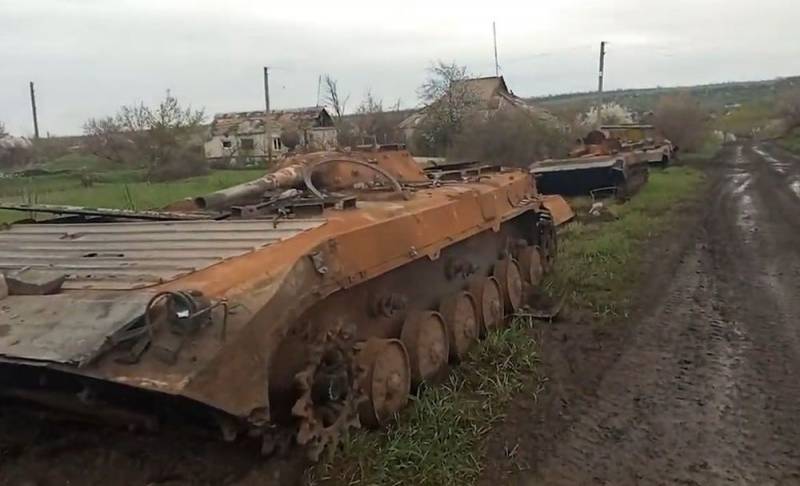 The Armed Forces of Ukraine continue to attack the positions of the Russian Armed Forces in the southern direction, despite serious losses in personnel and
technology
. This was announced on the afternoon of September 6 by the Russian Ministry of Defense in its operational summary for the past day.
In the published new data on the course of the NMD, the agency indicated that as a result of the actions of the Russian Armed Forces, Ukrainian troops on the Right Bank of the Dnieper River lost over 200 military personnel, 12 tanks, 11 infantry fighting vehicles, 8 other armored combat vehicles and 6 militarized pickups. Several brigades of the Armed Forces of Ukraine fell under Russian strikes. The personnel and equipment of three enemy brigades, the 61st Infantry, 35th Marines and 17th Tank, were hit in the PVD (temporary deployment points) near the villages of Visunsk, Yavkino, Bereznegovatoe and Chervonopolye in the Nikolaev region.
In addition, 2 RAV and ammunition depots were liquidated near Velikoye Artakovo in the Nikolaev region. In the village of Karpovka, located a few kilometers from Krivoy Rog in the Dnepropetrovsk region, a large fuel storage destined for the APU grouping in this direction was destroyed by Kalibr missiles.
In the sky, Russian Aerospace Forces fighters shot down 3 Su-25 attack aircraft of the Ukrainian Air Force: 1 near the city of Snigirevka and 2 near the village of Mirnoye in the Nikolaev region. Over the cities of Skadovsk and Kherson, Russian air defense systems shot down Ukrainian UAVs, and 11 rocket launchers for M142 HIMARS and M270 MLRS launchers were intercepted in the area of ​​the Kakhovskaya hydroelectric power station.