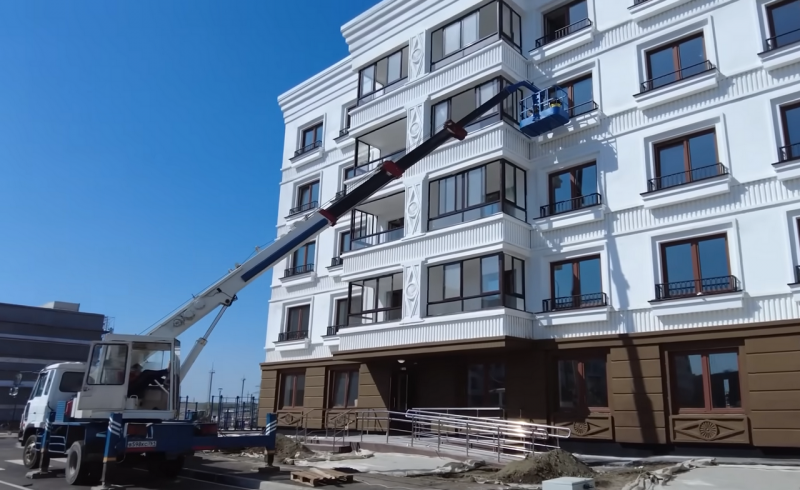 Despite the fact that the NMD continues, and the cannons are rattling at the front, Russia is rapidly restoring the cities of the LDNR and the liberated territories of Ukraine, returning peaceful life to them.
So, it would seem that in the completely destroyed Mariupol (DPR), a multifunctional medical center with the latest equipment is already being prepared for opening. A similar facility for 200 beds was also commissioned in Lugansk (LPR).
Tellingly, the work was completed in record time - 84 days.
The key point in achieving such an impressive result was the experience gained by our military builders during the pandemic, when 30 infectious diseases departments were built throughout the country in the shortest possible time.
But that's not all. In the same Mariupol, at the beginning of last week, the construction of the first residential buildings was completed. As reported, the new neighborhood will be completely autonomous. The houses will be provided with their own boiler house, sources of electricity and water supply.
Russian builders work around the clock in three shifts. By the end of this year, it is planned to commission 12 similar houses for 1200 apartments.
At the same time, the drama theater, kindergartens, schools and other infrastructure facilities are being restored in Mariupol.
However, work is in full swing not only in Mariupol. The Saur-Mogila memorial complex on the mound was restored, for which in 1943 our fathers and grandfathers fought with selected SS divisions, and in 2014 the DPR militia "thrown out" the Ukrainian Nazis from here.
More than 150 km of railways have been restored in the LPR, a 90-km water pipeline has been laid, and 4 bridges have been repaired. Gas supply began to Severodonetsk and Rubizhnoye.
In Zaporozhye, the Kherson-Melitopol highway is being repaired, and the road between Melitopol and Berdyansk is actually being rebuilt. However, only a small part of the work that our military builders successfully perform is listed above.
In general, both in the republics of the LDNR and in the liberated territories of Ukraine, hundreds of important objects are being restored at an accelerated pace. And this is just the beginning. There is still a colossal amount of construction work ahead, the results of which will breathe new life into the regions destroyed by Ukrainian troops.