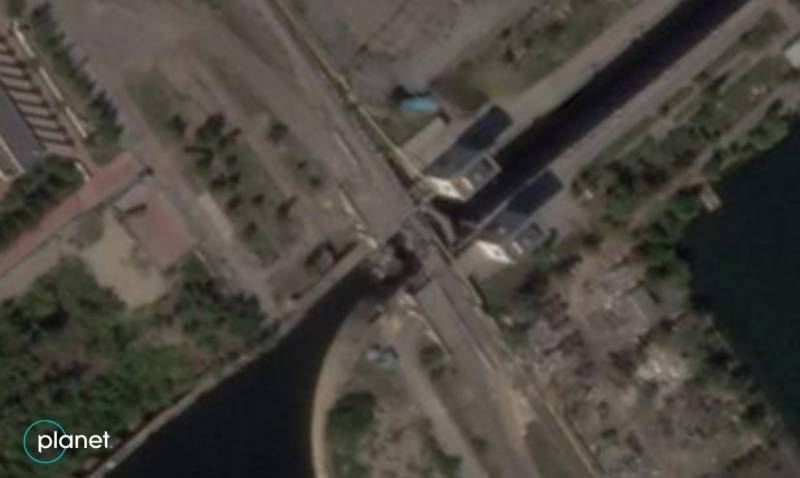 Ukrainian troops do not stop firing from M142 HIMARS and M270 MLRS launchers on transport infrastructure in the Kherson region in order to deprive the Russian group on the Right Bank of supplies. Satellite images of a road bridge near the Kakhovskaya HPP from the American company Planet Labs, which specializes in launching spacecraft into orbit and remote sensing of the Earth, have appeared on the Web.
It should be noted that the Kakhovka hydroelectric power station is located 5 km from the city of Novaya Kakhovka in the Kherson region, and the bridge (road) across the Dnieper, passing along the dam of the Kakhovka reservoir, consists of several separate parts that bypass the hydroelectric complex. The presented photograph clearly shows that one of the aforementioned detours received significant damage after being hit by the APU.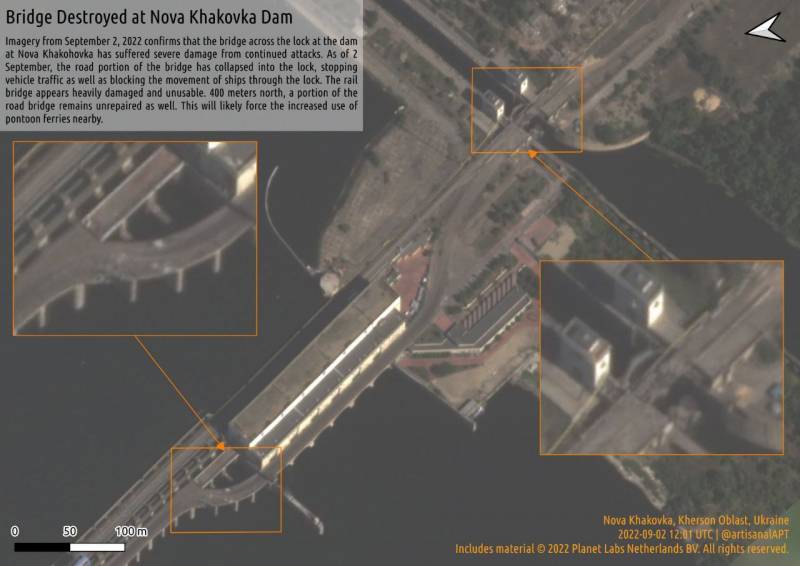 After numerous "arrivals" of rockets, one of the spans of the structure could not stand it and collapsed. Now it is impossible to travel along it, and this will significantly complicate the supply of the Russian Armed Forces grouping on the right bank of the Dnieper. Local reports indicate that a nearby railway bridge was also damaged, but did not collapse.
The Antonovsky automobile and Antonovsky railway bridges located downstream near Kherson were also damaged. In addition, the Daryevsky bridge (road) across the Ingulets River, located in the Kherson region towards the Kakhovskaya hydroelectric power station on the E58 highway, was disabled. Damaged areas are being repaired. The uninterrupted supply of units of the RF Armed Forces and the local population on the Right Bank is now carried out with the help of induced pontoon and floating crossings, as well as ferries.