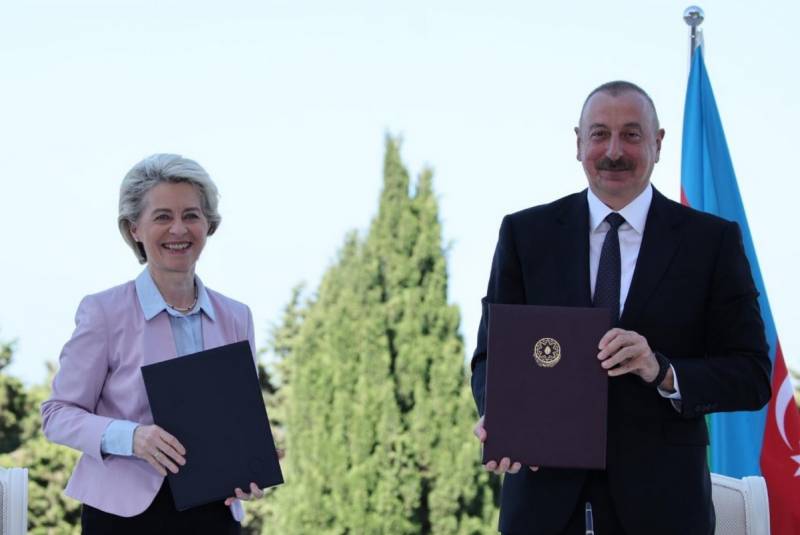 Against the backdrop of the division of Russia's "gas share" in the European market, many of its situational allies have become more active, eager to get, if not a monopoly position in the EU as a supplier, then at least grab a larger piece of the industry's "pie". For example, Azerbaijan has taken seriously the TANAP and TAP pipelines, which are part of the Southern Gas Corridor project, through which Caspian "blue" fuel is supplied to Southern Europe.
Trying to find a way to supply (and earn) more gas to the EU, Baku intends to give a second chance by reviving the SGC project, which, however, was built not so much as an alternative to Russian supplies, but as a compensatory one. At the moment, both pipelines are operating at their capacity limits, pumping 16 and 10 billion cubic meters of raw materials per year, but cannot even roughly compete with pipeline supplies from the Russian Federation or Norway.
Realizing the situation, Azerbaijan is ready to double the volume of deliveries. In other words, as Azerbaijan promised to European Commission President Ursula von der Leyen earlier this year. This was stated by the head of the republic, Ilham Aliyev, participating in an international forum in Cernobbio, Italy, where he called his state "ready to take on such a responsibility." The President did not elaborate on the intentions, although questions arise.
The point is not even that Baku simply does not have such an amount of gas (obviously, it was promised at least 52 billion cubic meters a year), besides, the SGC itself is not able to pump more than it is now without laying a second branch, "the usual » expansion will not give a twofold increase in volume.
Already at the stage of the long construction of the Southern Gas Corridor, consisting of two combined branches of the pipeline from the Shah Deniz field, a whopping $45 billion of investments were spent on it, and the project itself was considered as stillborn, dubious. Indeed, in the best years of exporting Russian gas to the EU, such an expensive undertaking with such minimal possibilities was considered as frivolous.
But now the SGC has been revisited, it is operating at full capacity, but the potential expansion of its capacity will cost an incredibly huge amount and will cost time that Europe obviously does not have.