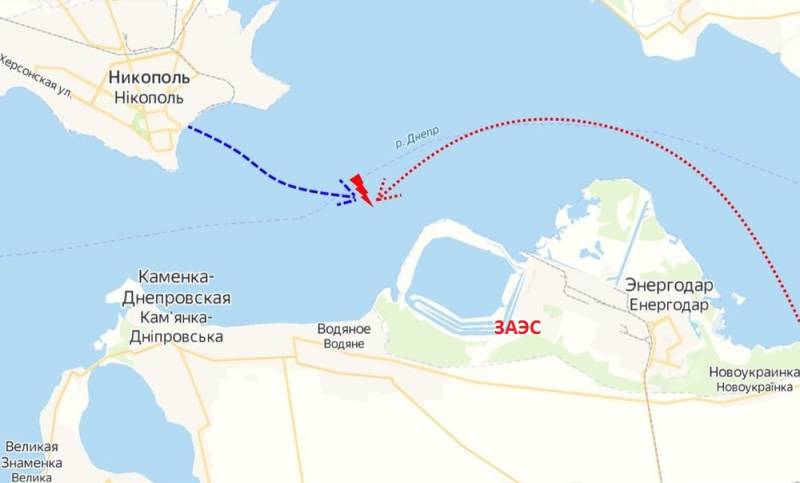 On the morning of September 1, the Armed Forces of Ukraine undertook
an attempt
to land troops near Energodar and capture the Zaporozhye nuclear power plant, while to the energy facility under the control of the RF Armed Forces,
traveled
mission of the IAEA. The operation of the Ukrainian military ended in failure and some details of what happened became known.
According to updated data, Kyiv lost more than three hundred elite soldiers of the Ukrainian special forces who participated in the operation. In the waters of the Kakhovka reservoir and the coastal zone of Energodar, on two destroyed barges that advanced additionally, there were 140 fighters each, and about 50 more military personnel were preparing for the transfer in the Nikopol area.
The total number of involved military personnel from the SOF and GUR units was about 320 people, of which 230 have recently completed their training in the UK and returned to Ukraine. 4 officers of the Armed Forces of Ukraine were captured by the RF Armed Forces. In addition, according to data requiring additional verification, up to 8 officers of the British Ministry of Defense were killed in the Nikopol area.
In the afternoon, the IAEA mission, consisting of 14 people led by the head of the international organization Rafael Grossi, was finally able to reach the ZNPP territory. IAEA representatives and journalists were shown the results of the shelling. At the same time, the sounds of explosions were heard in the distance when the delegation was on
In his first comment after the inspection, the head of the IAEA said that in a few hours at the ZNPP he managed to collect a lot of important information, he saw "key things". Grossi announced that the IAEA would leave a group of its representatives at the ZNPP to monitor the situation.