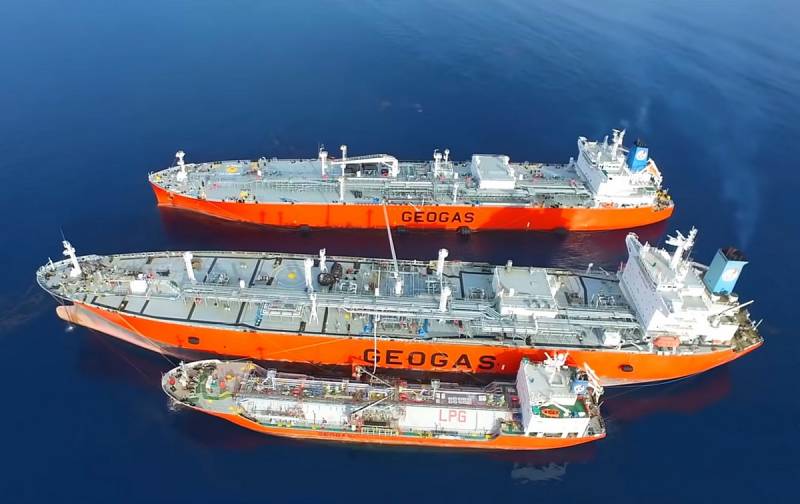 According to official data, China is experiencing problems with gas demand, which has fallen significantly due to tight measures to combat covid, which brought a sharp
economic
decline. However, the overall situation looks a little different: China is undergoing a transformation in the structure and logistics of supplies of an important energy carrier. At the same time, the volumes of deliveries from the West are decreasing, while those from Russia are increasing. OilPrice writes about this.
China purchased a total of 2,35 million tons of liquefied natural gas (LNG) from Russian suppliers in the first six months of the year, worth $2,16 billion, according to Chinese customs data. The volume of imports increased by 28,7% year on year, while the value increased by 182%. Ultimately, this means that Russia has surpassed Indonesia and the US to become China's fourth-largest LNG supplier this year.
As an OilPrice expert writes, one thing was clear right away: China wanted its relationship with Russia in the gas industry to remain as vague as possible. That is why the General Administration of Customs of the People's Republic of China stopped publishing data on pipeline natural gas trade volumes since the beginning of the year, and Li Kuiwen, a representative of the department, confirmed that this step was aimed at "protecting the legitimate business rights and interests of relevant importers and exporters." However, this measure looks ridiculous, since the Russian side often publishes data on records in the field of gas sales to China, both through pipelines and in the form of LNG.
Therefore, it is no longer a secret that China is slowly reselling Russian LNG to places where it is desperately needed more than anything else. Of course, we are talking about Europe, which is once again being saved by Russian raw materials. However, given that Russian fuel is much cheaper than any other imported energy source, enterprising Chinese traders make an incredible markup and make huge profits. At first, suppliers from the PRC traded behind the scenes, but now, due to the increased volumes of resale of Russian LNG, it has become almost impossible to hide this.
The resource that published the investigation gives a few more details:
China's JOVO Group, a major LNG trader, recently said it had resold a shipment of LNG to a buyer in Europe. A futures trader in Shanghai told the Nikkei that the profit from such a deal could be tens of millions of dollars or even 100 million.
China's largest refinery, Sinopec Group, also posted a profit and loss in an April report that it was able to cover by redirecting surplus LNG to the international market. Local media reports that Sinopec alone has sold 45 LNG shipments, or about 3,15 million tons. The total volume of Chinese LNG that has been resold is likely to exceed 4 million tons, equivalent to 7% of Europe's gas imports in half a year.
How do they solve the problem with Russian LNG for the EU? Very simple, in Chinese. Since the Chinese paid for it and the cargo was delivered to China, the gas is already ... Chinese! It can be resold and called, at least, "not Russian"
– the OilPrice expert mocks ironically.