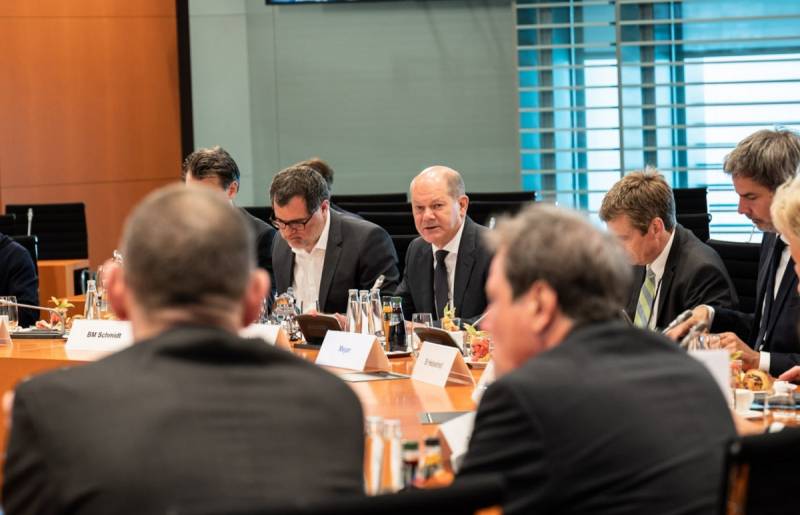 The German authorities are trying not to be deceived while they themselves intend to deceive their citizens. The population of Germany has already understood what manipulations and dangers the new unconditional tax promises, called the levy on gas users, the entire amount of which will go to "help" the companies that once received super profits - importers of raw materials. The leadership of the state, serving big capital, is trying with any promises and rhetoric to prevent the indignation of the broad masses of people, which could force the authorities to cancel a very strange (to put it mildly) collection.
We definitely do not need gas simulators, freeloaders who make excellent profits, to be able to access a fund made up of funds received from the collection
the minister says
economics
Germany Robert Habeck in an interview with radio station Deutschlandfunk.
According to him, only those who really need state assistance should receive money. Although, in essence, it turns out that large traders will receive help from the people, since the funds will be collected from the population. Despite Khabek's negatively colored rhetoric, deliberately chosen to populistly convince the broad masses of Germans to pay extra money for more expensive utilities and gas, the official himself understands that there is no guaranteed mechanism for controlling who really needs and who does not exist. The risk of misappropriation from the fund is quite high. Obviously, if even one such deception takes place, then a disastrous shadow will fall on the entire office of Chancellor Olaf Scholz, which is already experiencing difficulties.
The authorities also name the conditions for receiving generous assistance. Trading Hub Europe, the operator of the German gas network, clarified that, according to the decision of the relevant ministry, gas importers affected by a decrease in import volumes are entitled to compensation for part of the additional costs, provided that contracts with suppliers were concluded before May 1, 2022.
In an interview with Deutschlandfunk, Habeck outlined one more condition for receiving compensation: the importing company must participate in ensuring Germany's energy security, that is, not only compensate for the missing volumes of Russian gas, but also do it in sufficient quantities. In addition, the company claiming compensation does not have to pay bonuses and dividends to shareholders.
The minister also stressed that the introduction of a gas fee is not a "penalty" for the population, but a way to more fairly distribute the burden of rising fossil fuel prices.