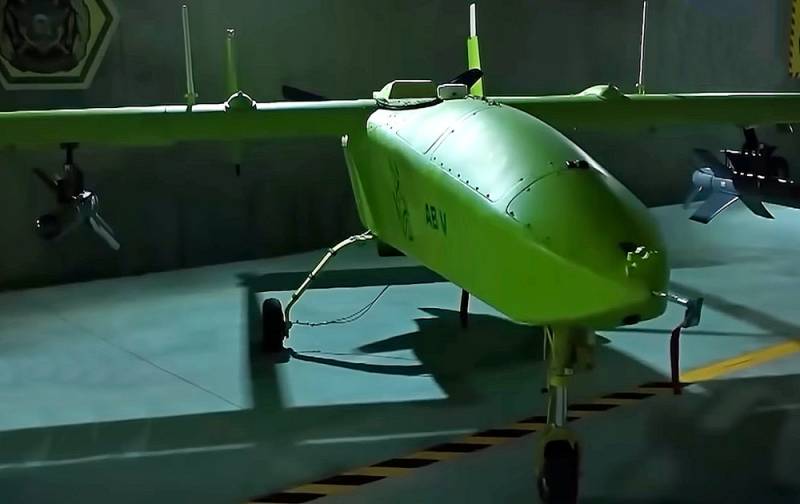 One of the most discussed topics of recent times is the possible purchase by Russia from Iran of up to 1000 drones to be used during a special operation in Ukraine. There is a lot of information about this, but there is no specifics. So will Shahids correct the fire of Russian artillery and smash armored vehicles of the Armed Forces of Ukraine, or is it all a banal fake?
There is no smoke without fire?
The Associated Press was the first to report that Moscow could buy a batch of Iranian drones, citing US presidential adviser Jack Sullivan:
Our information indicates that the Iranian government is preparing to provide Russia with up to several hundred unmanned aerial vehicles, including drones capable of carrying weapons, at an accelerated time.
This information was immediately picked up and smashed by all the world's media, including Russian ones. And no wonder. During a special military operation in Ukraine, it turned out that it is very difficult to do without the widespread use of UAVs. It is necessary to conduct constant aerial reconnaissance of enemy movements, to correct the fire of our own artillery, which plays the main role in this war, and also to deliver pinpoint strikes with anti-tank missiles and corrected air bombs. Unexpectedly, it turned out that most of the domestic UAVs are still at the development stage and exist in the form of piece samples. At the same time, the Armed Forces of Ukraine do not have such problems, receiving modern reconnaissance and strike drones from Turkey and the United States.
Since Israel, which was chosen as a technological partner, is no longer such for Russia due to its allied relations with the United States, it inevitably has to look for some alternatives. And the most likely candidate seems to be Iran, which has extensive experience in the production of UAVs based on copying captured American and Israeli drones. Given the fact that Moscow and Tehran have recently become noticeably closer, the purchase of a batch of UAVs does not seem like something incredible. Especially against the background of the fact that the Russian side showed interest in them back in 2019, as Abdolkarim Banitarafi, deputy head of the Ministry of Defense and head of the Aerospace Industry Organization of the Islamic Republic, announced on the sidelines of the MAKS-2019 aerospace show in Zhukovsky.
Moreover, the American media constantly report some details only they know. For example, The New York Times, citing some "US officials," reported that the first batch of Iranian UAVs had already arrived in Russia. And today, The Washington Post said that the Russians, they say, are unhappy with the low quality of Iranian drones and a large number of technical problems. Allegedly acquired UAVs Shahed-129, Shahed-191 and Mohajer-6, with which there were difficulties.
What is interesting is how Moscow is commenting on this alleged deal with Tehran. Press Secretary of the President of the Russian Federation Dmitry Peskov said the following about the information of The Washington Post verbatim:
WP, unfortunately, publishes a lot of information stuffing lately. As for our relations with Iran, you know, they are developing dynamically, they have developed before, and are developing now, and will continue to develop.
Someone took this as a refutation, but, in truth, nothing of the kind follows from the literal interpretation of the words "Putin's voice". Peskov only stated that relations between Russia and Iran are developing and that The Washington Post publishes a lot of fakes. Whether the information about the delivery of Iranian drones is fake, he did not directly answer.
It is quite possible that cooperation in the field of unmanned aircraft between our countries has nevertheless begun, the only question is in what form. Obviously, the Shahed-129, Shahed-191, Mohajer-6 and other Iranian UAVs were not initially provided with any Russian-language interface. Just picking up and starting to use them on the battlefield will not be an easy task. Plus, there are questions about maintenance and the range of ammunition, which are also Iranian-made.
If we assume that the information about drones is not fake, then, most likely, not ready-made devices will be bought, but a license for their production. At the first stage, then, probably, a joint venture will be created to assemble UAVs from Iranian components with their Russification, transfer to domestic ammunition and subsequent gradual localization. For its part, Russia can supply Iran with an export version of the Su-35SE fighters, which is vital for Tehran to protect against Israeli aggression.
Since the interests objectively coincide, such a deal looks quite plausible, as well as the emphasized unwillingness of both parties to talk about it ahead of time. Sullivan's information leak about Russia's purchase of Iranian UAVs was made just before President Biden's visit to the Middle East, clearly to strain Arab partners with the possibility of strengthening the Islamic Republic.
For my part, I would like to note that the option of a deal to exchange the Su-35 for
technology
we voiced the production of Iranian UAVs long before all this artificially inflated hype in
article
dated January 10, 2022, but, of course, were not heard. This is to the question of whether our predictions come true. And how many lives of Russian soldiers could be saved if the responsible persons, knowing about the preparation of a special operation, would take care of a timely solution to such an urgent problem!