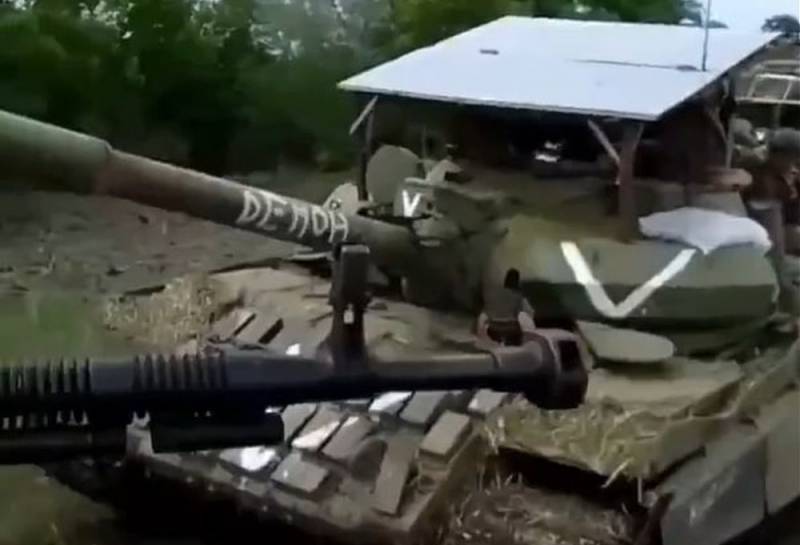 A video appeared on the web with a modified version of the T-62M tanks in the ranks of the volunteer Cossack brigade "Don" named after the Archangel Michael. This formation was created in the south of Russia to participate in the NMD in Ukraine and was recently transferred from the Donbass to the southern direction (Nikolaev-Krivoy Rog).
The footage taken by the fighters shows the T-62M with makeshift protective visors on the turrets and dynamic protection "Contact-1" on the hulls of combat vehicles. Tanks are used as fire support.
It should be noted that the expected initial goal of protecting armored vehicles with such visors from ATGM ammunition attacking from above turned out to be unrealistic. However, during the battles with the Armed Forces of Ukraine, such visors acquired for themselves an unexpected and initially unplanned function of protecting them from hand-held cumulative grenades and mortar mines dropped on armored vehicles from commercial quadrocopters hovering in the sky.
The thing is that "bombing from quadrics" has become the most massive and cheap attacking phenomenon, but inexpensive defensive measures have now been taken against it. RKG-3 and other small free-falling ammunition used from these small drones will no longer be able to harm the tank and its crew, causing detonation of the ammunition.
We remind you that on August 22, a State Duma deputy from the Rostov region, Viktor Vodolatsky, informed the public that units of the DKB "Don" broke through the front, which was held by the formations of the Armed Forces of Ukraine near Nikolaev. The next day, the Ministry of Defense of the Russian Federation
confirmed
this information.