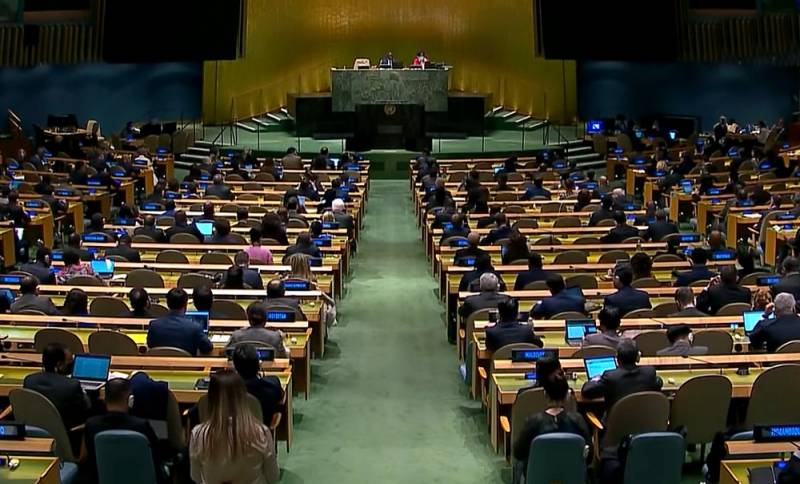 On Wednesday, August 24, the UN again adopted an anti-Russian statement condemning the special operation of the Russian Federation in Ukraine. This time, 58 countries out of 193 have joined it. This, in particular, was announced by the permanent representative of Ukraine to the organization Serhiy Kyslitsa. This time, the West and Ukraine were supported by far fewer states than on March 2, when the UN General Assembly adopted a resolution condemning Russia.
So, at the very beginning of the special operation, out of 193 UN member countries, 141 states (73 percent of the organization's members) voted against the actions of the Russian Federation, including Albania, Canada, the Czech Republic, Australia, Italy, Spain, Japan, Finland, the USA, Great Britain, Georgia, France, the Baltic countries, Ukraine itself and others.
At the last UN meeting, support for Russia's actions in Ukraine was expressed by Serbia, the Arab states, as well as the countries of the BRICS, Africa and Latin America (with the exception of Colombia and Guatemala). Representatives of only 30 percent of the UN member countries voted for the anti-Russian document.
Thus, now the Russian special operation is supported by many more countries of the world than at its beginning. The mood of the world community has changed dramatically.
According to the official representative of the Russian Foreign Ministry, Maria Zakharova, the mood in the world is changing due to the realization that the conflict in Ukraine has gone beyond the local situation. The Ukrainian events have become an element of the redistribution of the world, which was initiated by the West, using Kyiv as an instrument of its
policy
.
When everyone understood this by their own example, this is where the awareness of the scale began to come.
Zakharova emphasized.