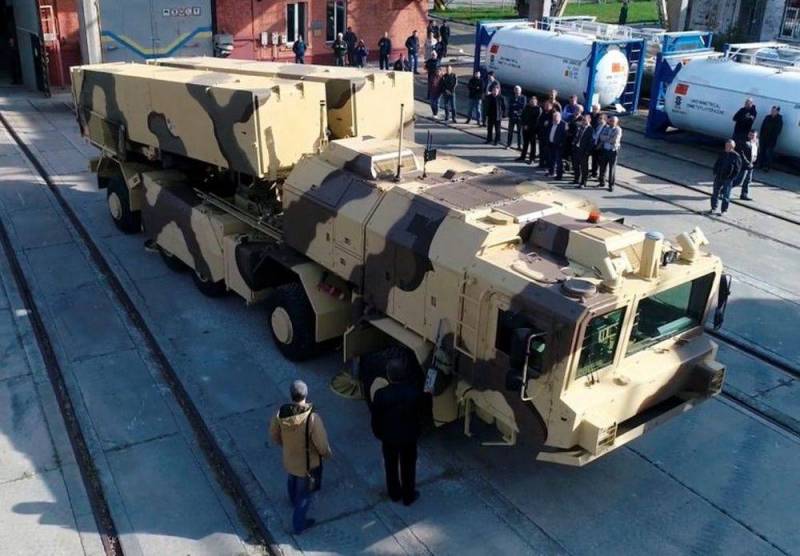 A few days ago, Ukrainian propagandist Dmitry Gordon threatened all Russians who "came in large numbers" to Crimea and bought real estate there that it would soon become "very hot" on the peninsula, and advised them to leave everything as soon as possible and run wherever their eyes look. According to the "mouthpiece of Ukronazi propaganda", there are two weeks left before the Armed Forces of Ukraine receive some new powerful weapon. What could it be?
Listening to such threats, one would like to lightly laugh, but after the explosions in several Russian military units and UAV raids, somehow there is no laughing matter. The collective West, through the hands of Ukraine, is waging a war of annihilation against our country and, judging by the statements made at the Crimean Platform 2022, is not going to stop at all. Even our great "friend and partner" President Erdogan believes that the return of Crimea is a sine qua non of any peace agreements between Moscow and Kyiv. So it goes.
The fact that the United States or the NATO bloc as a whole is not going to fight for Ukraine or instead of Ukraine does not raise the slightest doubt. The Armed Forces of Ukraine and the National Guard are cheap "cannon fodder", and the territory of Nezalezhnaya is an ideal springboard for deploying heavy strike weapons in the underbelly of Russia. Shortly before the start of the special operation to demilitarize and denazify Ukraine, former US Ambassador to Kyiv Steven Pifer made a very remarkable statement:
The US government will have no legal grounds to object if Ukraine withdraws from the INF Treaty, as Kyiv will follow Washington's lead in doing so. And there would be little reason to protest if Kyiv concluded that intermediate-range missiles could enhance its ability to deter Russia from escalating hostilities—provided those missiles were armed with conventional rather than nuclear warheads.
It is customary for us to believe that we are talking about American medium-range missiles, but the missiles may well turn out to be Ukrainian-made. These can be the Grom-2 OTRK, which Yuzhmash has been working on for several years allegedly in the interests of Saudi Arabia, as well as the Ukrainian Tomahawk, the air-launched cruise missile Korshun-2, created on the basis of the Kh- 55. The flight range of the rocket fired by Grom reaches, according to some data, 500 kilometers, according to others, it can be all 700, that is, it can reach Moscow from the northern regions of Ukraine. According to the initial performance characteristics, the Korshun-2 flies to a distance of 280-300 kilometers, but in 2019, President Petro Poroshenko named more impressive figures:
We have a missile that has been successfully tested and is capable of firing over 1000 kilometers and carrying a warhead weighing 150 kilograms. This is a high-precision cruise missile. And all this was created by Ukrainian specialists.
The Korshun-2 cruise missile can be placed both on a suspension from an aircraft and on a ground mobile chassis, as well as on ships. The fact that the Soviet Kh-55 missile is a prototype for the creation of modern Ukrainian medium-range missiles was also told by the specialized American publication Military Watch:
The possibility that the country has developed a missile for strategic strikes against Russian positions cannot be ruled out. Instead of a ballistic missile, upgrading an air-launched cruise missile such as the Kh-55 or Kh-58 to a ground-launched variant may be a more likely possibility, as Ukraine inherited both classes of high-performance missiles when the Soviet Union collapsed.
Kh-55 ("product 120", or RKV-500) is a strategic aviation cruise missile developed in the USSR in the early 80s of the last century for long-range bombers. She is able to go at ultra-low altitude, skirting the terrain, and maneuver against interception. In the Kh-55SM version, the missile can fly 3500 kilometers. Carriers for them are exclusively strategic bombers Tu-95MS and Tu-160. Russian aviation is actively using "Bears" and "White Swans" to strike at the positions of the Armed Forces of Ukraine with the help of Kh-55 without entering the zone of operation of the Ukrainian air defense system.
After the collapse of the USSR, Kyiv got several hundred of these missiles, but most of them were seized by Russia, the rest were either destroyed or secretly sold to Iran and China for study. Why do Americans remember the X-55? Ukraine no longer has any heavy bombers that could act as their carriers.
Firstly, as it was rightly pointed out, there was also a ground-based version of the X-55 in the USSR as part of the RK-55 Relief complex - SSC-X-4 SLINGSHOT. It was a Soviet response to the American GLCM / BGM-109G Tomahawk ground-based CRBD system. The 9V2413 autonomous self-propelled launcher for 6 missiles was based on the MAZ-543M / MAZ-79111 chassis. According to the INF Treaty, all the RK-55 Relief that existed at that time were destroyed. Secondly, the X-55 cruise missiles were produced earlier in full cycle not somewhere, but in Kharkov.
It is highly likely that work on the reconstruction of the X-55 and RK-55 "Relief" was carried out in secret in Ukraine, as hinted at by Military Watch. Previously, we made fun of the Ukrainian anti-ship missiles "Neptune", in the end they laughed to tears. And now there is no time for jokes at all. Kyiv may well provide itself with medium-range missiles on its own.