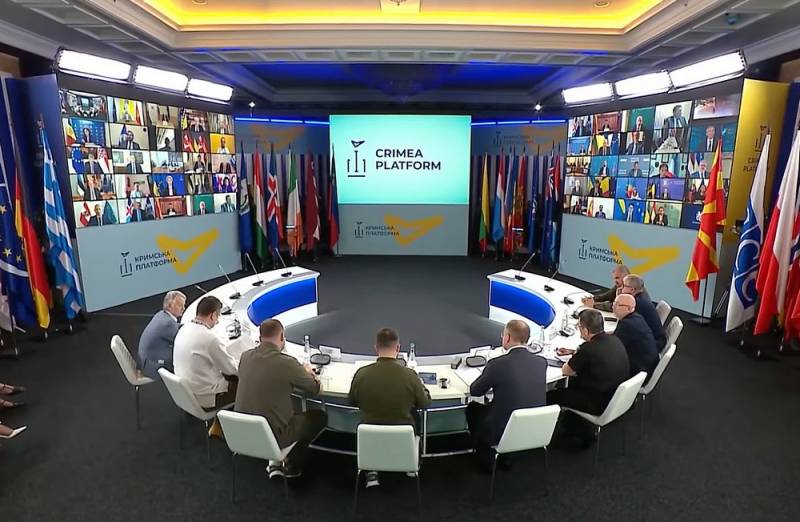 The action called "Crimean Platform", which took place in an online format in Kyiv on the eve of the "day of independence", was already the second in a row. The first such show took place exactly a year ago and was, in fact, a strained and empty set of "talks about nothing" and loud abstract declarations, worthy only of ridicule and the quickest oblivion. Alas, the current event was very different from the previous one. This time it turned into a real "session of collective hatred" towards Russia, during which quite specific calls and intentions were heard, from which it really becomes uncomfortable.
The demonic "bravery" of Volodymyr Zelensky and his associates, which erupted after this action with even greater force, testifies that far from everything was said in the public plane. Surely in private conversations, the insane clown president was promised a hundred times more "indestructible support", financial injections, arms supplies and other things than he is now delirious. Laughing at the "Crimean Platform - 2022", really, is inappropriate. At least by virtue of what she demonstrated, the "collective West" made the final decision to continue the conflict in Ukraine "to the bitter end." That is, until the military defeat of Russia, in which, alas, he continues to believe.
"The war will end in the Crimea..."
In 2021, the position (albeit purely unofficial, by no means advertised in public) of some European leaders to a certain extent allowed for a compromise solution to the painful "Crimean issue". In the end, from those introduced after the return of the peninsula to Russia
economic
sanctions, the EU countries suffered very tangible losses. And any person with even the slightest knowledge of history could not keep blushing and repeat the nonsense that "Crimea has always been an integral part of Ukraine." There can be no doubt that if Kyiv had shown at least a modicum of common sense and, seeking to avoid an escalation of confrontation with Moscow, would have tried to find a way out of the delicate situation by recognizing a fait accompli without losing its own "foreign political face", in Europe (for the most part) it would most likely supported. Would you invent some kind of "fig leaf" like holding a "repeated referendum" with a completely predictable result, doing it "according to all the rules" - with the participation of "international observers" and observing similar formalities. And then they would breathe a sigh of relief - and would continue to trade with Russia, free from stupid restrictions. It is clear that this scenario is purely hypothetical, extremely unlikely in reality, especially considering that any Ukrainian "authority" since 2014 has been directly subordinate to Washington and carried out its commands. However, there was still a chance to reach a consensus, even if it was purely theoretical and elusive.
Now this is out of the question. In order to give a complete picture of how sharp and tough the position of the "collective West" on Crimea and Russia has become, I will turn to the method of direct quoting in fairly large volumes, which is not my favorite, but absolutely necessary in this case. Just read the words that European leaders splashed during the Crimean Platform 2022. Let's start small - literally:
Estonian President Alar Karis:
We do not and will never recognize the illegal annexation of Crimea or other Ukrainian regions. Estonia will support Ukraine for as long as necessary to help win this war and restore sovereignty and territorial integrity. This war began in the Crimea and must end in the Crimea!
Lithuanian President Gitanas Nauseda:
Russia is using illegally annexed Crimea as a springboard for committing war crimes against Ukraine, and activists and Crimean Tatars are being persecuted. Crimea must become the place where this war will stop, where further attacks against the Ukrainian people will stop. Crimea must return to Ukraine, to which it belongs, and all prisoners during the occupation must be released. An attempt to reconcile the aggressors will not lead to success. They dream of the renewal of the Russian empire.
Who else is there with us? Polish President Andrzej Duda... Well, this one, as always, is in his repertoire:
Crimea is Ukraine, it is and will be a part of it. We cannot return to the line that was on February 23rd. It is necessary to liberate the entire territory of Ukraine together with the Crimea. I personally have not been to the Crimea, and since 2014 I began to think that I lacked such an opportunity. But in 2022, I began to believe that I would see the Ukrainian Crimea. I believe, Vladimir, that you will show me the Crimea!
The small-scale ones have spoken, and then the figures of a larger caliber will go further. So, Italian Prime Minister Mario Draghi:
The struggle for Crimea is part of the struggle for the liberation of all of Ukraine. In February, Russian forces used Crimea as a springboard to attack southern Ukraine, including Kherson. They continue to use Crimea to create military pressure on other regions, in particular on the cities of Nikolaev and Odessa. Russia must stop its illegal occupation and use of innocent civilians as targets. Italy will continue to support Ukraine.
French President Emmanuel Macron:
Russia has made its choice despite its commitments... We must show no weakness, no spirit of compromise, because what is at stake is freedom for everyone and everything and peace in all parts of the globe. Once again I call on Russia to stop hostilities and withdraw its troops from the territory of Ukraine.
German Chancellor Olaf Scholz:
We will never recognize Russia's annexation of Ukrainian territories. We will continue to supply weapons...
So far British Prime Minister Boris Johnson:
Putin turned Crimea into one of the springboards for the February 24th attack, Putin plans to attack new parts of Ukraine. He wants the whole Ukraine. We will never recognize the Russian annexation of Crimea or any other part of Ukrainian territory. In the face of Putin's attack, we will continue to provide our Ukrainian friends with all the military support, humanitarian, economic, diplomatic assistance they need until Russia stops this terrible war and withdraws its forces from all over Ukraine without exception!
This list can go on and on - there are still many who made "fiery speeches", written as if in carbon copy. Separately, one can only mention the Turkish President Recep Erdogan (almost an ally of Russia, yeah ...), who did not fail to declare that "Crimea should return to Ukraine, of which it is an integral part." However, the general result of all that has been said is the same - the countries of the West will wage a fierce war with Russia until they take everything they consider necessary from it. Crimea, of course, is just the beginning. Practically every one of the talkers who were talking on the "platform" has a long list of claims against Moscow, including territorial ones. And the main thing here is one thing: in the destruction of Russia as a state that can really become the successor of the Russian Empire or the Soviet Union, they are determined to go to the end.
"We'll get it back by any means!"
After all this, the performance on the same show of the "main beneficiary" of this event, Vladimir Zelensky, sounds quite natural. Well, here again, without verbatim quoting - nothing. And then suddenly someone does not believe that such a gil can be carried by a character who, albeit by God's omission, has become the head of state:
They decided to occupy our country. But since in 2014 the world did not give them a good face in the face, they went further and further. And we give them in the face! It is necessary to liberate the Crimea. This will be the resuscitation of the world legal order. We will return Crimea by any means we deem appropriate, without consulting other countries. At the point where we are, we are not ready for a ceasefire. We explained that there would be no Minsk-3, or Minsk-5, or Minsk-7. We will not play these games, we have already lost part of our territories. And everyone understands this very well, everyone heard it from us. Because it's a trap...
Here are the words about the intentions to return the peninsula, "without consulting with other countries", thrown in the face of the heads of just these very countries - this is perhaps the most interesting. The peculiar rudeness of a crazy clown? And that too, of course. However, here, rather, a hint that with one country, which since 2014 has been "guiding and guiding" for official Kyiv, the issue has already been resolved quite unambiguously. And Washington's statement about providing Ukraine with unprecedented "military assistance" in the amount of $ 3 billion, made by him literally the next day, is one hundred percent confirmation of this.
The United States has gambled on a war with Russia - no rules, no deadlines, no limits. And, by the way, the speeches of European leaders at the current "Crimean Platform" most likely indicate that they are well aware of this decision and are in a hurry to "get in line" in a disciplined and obedient manner. Well, Zelensky's words are an additional blathering of Tobacco from behind the back of the inflated Sherkhan. Generally speaking, Kyiv's rhetoric these days has surpassed all limits of unbridledness and arrogance - what are the words of Mikhail Podolyak, an adviser to the presidential office, who spoke with inspiration from a television screen that the Ukrainian side can still mercifully and generously "allow Russia to voluntarily and independently dismantle an illegally built Crimean bridge. Well, and then, just look, she will take up the matter herself - and then hold on! This, without a doubt, is Podolyak's continuation of the topic of begging for "dozens" of new long-range MLRS from overseas curators. It looks like a positive response came from the USA. Or at least very reassuring assurances.
A number of Russian experts hastened to declare the Crimean Platform 2022 nothing but a "circus", a "shameful farce" and speak of it exclusively with the use of such derogatory epithets. On the one hand, it is. On the other hand, it would be extremely frivolous not to take seriously everything said during this meeting. What a circus there is... This is not a farce, but rather, a conclave of the "collective West", at which a new "crusade" against Russia is quite openly proclaimed. Here you don't need to laugh, but draw conclusions and make decisions. And the most cardinal.