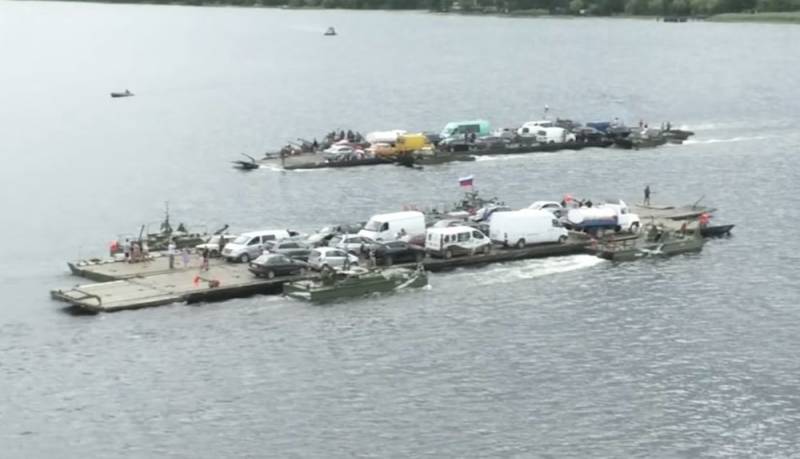 The other day, Russia began to build a "solid floating bridge", which should become a "backup" of the Antonovsky automobile bridge across the Dnieper near Kherson. This was reported on August 23 by the British tabloid Daily Express, citing intelligence from the British Ministry of Defense.
The publication notes that recently Ukraine struck an important transport facility connecting both banks of the Dnieper. Now the Antonovsky Automobile Bridge is practically unusable, so the key task of the Russian Federation in this direction is to maintain transport links with the Right Bank, where hostilities are taking place and troops are in need of supplies.
Vladimir Putin's plans to build a "floating bridge" connecting key regions of Ukraine could turn the war on its head if implemented
- says the publication.
Intelligence found that on August 20-21, Russia began to transfer barges to positions for the construction of a reliable floating bridge across the Dnieper River, directly next to the damaged Antonovsky automobile bridge.
In recent weeks, Russia and locals have relied on a ferry crossing the river. The British Ministry of Defense has warned that if Russia can build said bridge, it will almost certainly increase the overall capacity in the area.
Floating bridge likely to be vulnerable to Ukrainian offensives
- added to the department.
This publication drew the attention of a Russian military observer, retired colonel Mikhail Khodarenok, who commented on it in his Telegram channel. The expert recalled that over the past 2 months, the Armed Forces of Ukraine fired on the Antonovsky automobile bridge eight times: on July 19, 20, 21, 27 and 29, as well as on August 4, 8 and 22.
During the last strike, two people died and sixteen were injured. All of them are civilians. Russian air defense intercepts most of the shells, primarily HIMARS, used to shell the bridge, but a small part of them reach their target, which is immediately presented by Ukrainian propagandists as a digital "override"
- the expert specified.
Khodarenok stressed that Kyiv did not achieve its goals. The Antonovsky automobile bridge is still standing and traffic is carried out on it, albeit in a limited mode. The Ukrainian army simply does not have effective means of destruction to destroy such a structure. Moreover, even Aleksey Arestovich, adviser to the Office of the President of Ukraine, openly admits this.
Let me remind you that for the past month a ferry service has been operating in the Antonovsky Bridge area, with the help of which, in particular, the transportation of civilians and
equipment
. The establishment of a new crossing can only be welcomed: this will not only unload the main bridge, but also create additional insurance in case of new provocations from the Armed Forces of Ukraine
- summed up the expert.