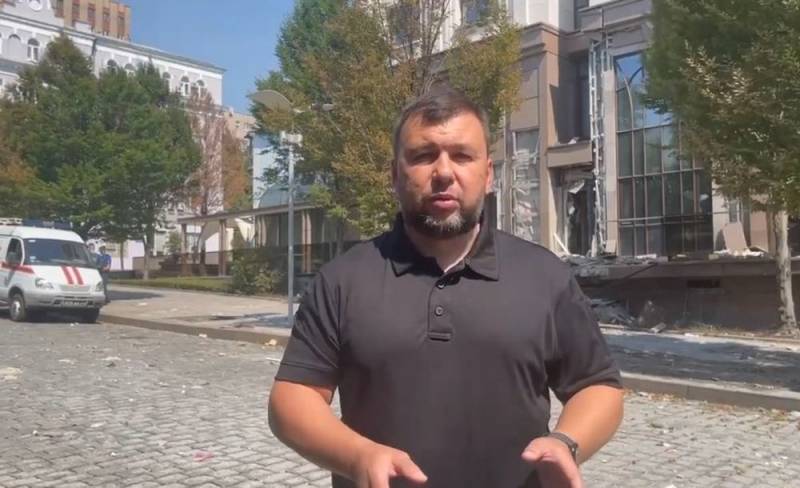 On August 23, Donetsk was subjected to the most powerful shelling from the Armed Forces of Ukraine in the last 8 years. According to preliminary data, 3 people died and 6 were injured. This was informed by the mayor of the capital of the DPR Alexei Kulemzin.
It should be noted that for the first time Ukrainian servicemen hit the decision-making centers in Donetsk. Under the combined attack of cannon and rocket artillery of the Armed Forces of Ukraine, provided by NATO countries, not only residential buildings, commercial and municipal facilities, but also the administration buildings of the head of the DPR Denis Pushilin and the local Ministry of Internal Affairs fell.
The head of the DPR himself at that moment, by a lucky chance, was not at the workplace. Emergency services work in the areas of "arrivals". Numerous videos from the scene from journalists and eyewitnesses appeared on the Web.
The building of the administration of the head of the DPR, which was subjected to artillery attack, now looks something like this - a destroyed entrance, broken or broken windows, frames and glass on the asphalt. The upper floors were damaged to a greater extent - on the last of them there is a huge hole from ammunition.
Donetsk experts believe that Ukrainian servicemen used rocket-propelled ammunition for M142 HIMARS and M270 MLRS mobile launchers, as well as long-range projectiles for 155 mm howitzers. Whether there will be a retaliatory strike on the decision-making centers in Kyiv is unknown.