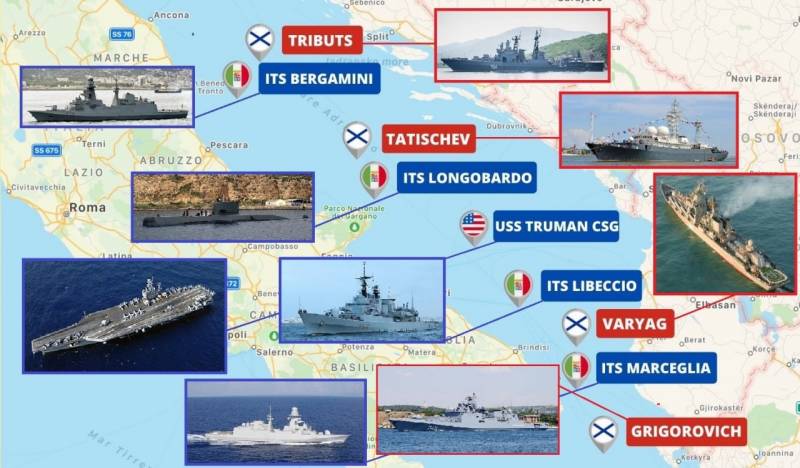 Russian warships located in the Adriatic Sea have effectively locked up the NATO fleet and control the region, blocking the US Navy strike group in the Strait of Otranto.
The Russian squadron in the Adriatic is represented by the Admiral Tributs BOD, the Vasily Tatishchev reconnaissance ship, the Varyag cruiser and the Admiral Grigorovich frigate. Along with this, the Italian frigates Carlo Bergamini, Libeccio and Antonio Marceglia, the submarine Primo Longobardo, and the American aircraft carrier Harry S. Truman are in the water area.
Earlier, the Italian edition of La Repubblica, referring to representatives of the Italian Navy, reported that the Varyag missile cruiser had blocked the movement of the US aircraft carrier group in the Adriatic Sea, where Harry S. Truman had cruised between Sicily and the Adriatic for the past few months.
Actions by the Russian Federation have become a challenge to the naval command of the NATO bloc
the newspaper noted.
The day before, Academician Radiy Ilkaev expressed the idea that tactical nuclear weapons should be re-installed on Russian warships - this issue should be discussed in the Security Council of the Russian Federation. These weapons were removed from the ships following informal agreements between the US and the USSR in 1991.