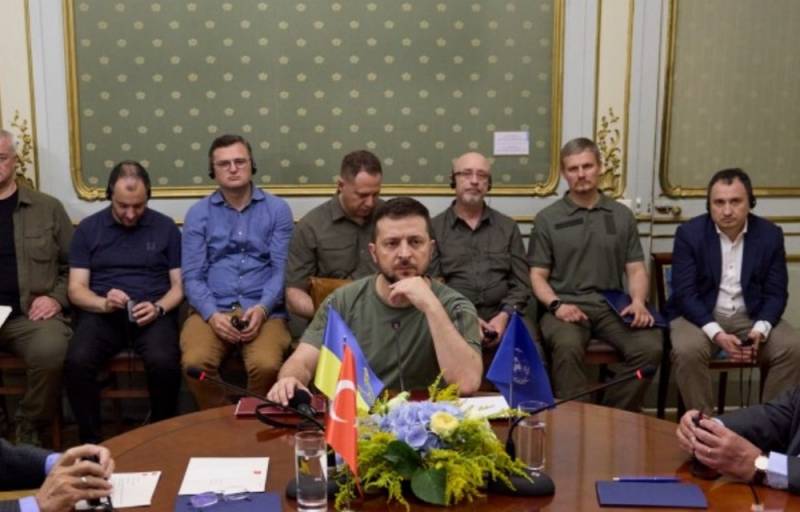 President of Ukraine Volodymyr Zelensky, in his traditional evening address to the nation, outlined the future "trial" in Mariupol of Ukrainian prisoners of war as a line after which Ukraine will completely abandon negotiations with Russia.
Kyiv uses such blackmail for the third time. For the first time, similar conditions were put forward by the office of the head of the Ukrainian state during the fall of the defense of Mariupol, demanding the release of the "defenders" of the city. The second time the technique was used in an attempt to cancel the referenda in the Kherson and Zaporozhye regions, as well as in the DLNR. For the third time, Zelensky began to blackmail with negotiations, drawing the "final line" on August 21.
In Mariupol, scenery and cages are being prepared for an absolutely nasty and absurd trial of Ukrainian defenders, of our soldiers who are in captivity
Zelensky says.
He promises that the reaction of the Ukrainian state will be absolutely understandable and unambiguous. If, nevertheless, the announced show trial takes place, if the criminals "in violation of all agreements, international rules are taken to these cells," then this will be "the line after which any negotiations are impossible." Russia will "cut itself off" from negotiations, Zelensky believes.
Obviously, Kyiv is trying to take advantage of Russia's interest in the negotiations. Having outlined the "last" line for Moscow, and several "red lines" for himself, Zelensky uses the tactics of undisguised blackmail, using theatrical skills of acting out drama and suggestion. Be that as it may, for the internal Ukrainian mass "use" the technique works. However, evening video messages are not designed for anything else.