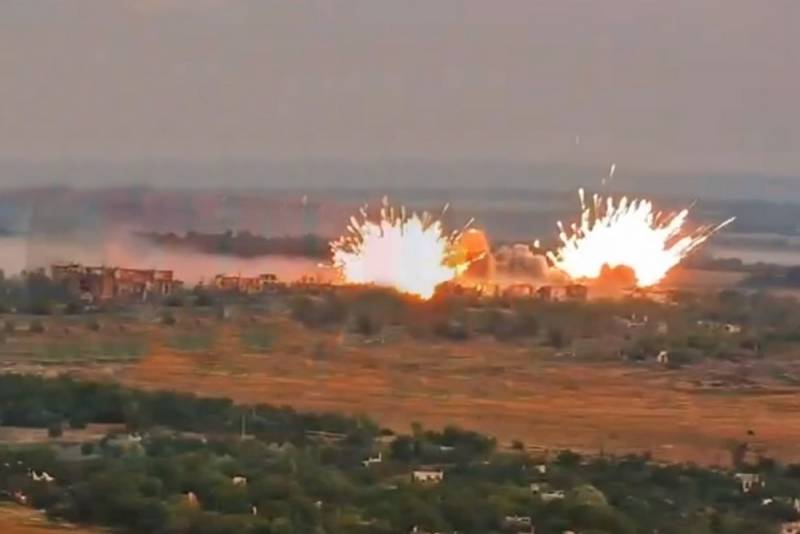 On August 13, the Russian Ministry of Defense reported that during the NMD, the village of Peski near Donetsk was taken under control. Then the Armed Forces of the Russian Federation and the NM of the DPR managed to overcome the Ukrainian defense, which was methodically lined up for 8 years. Now there is an opportunity to look at one of the episodes of the offensive of the allied forces in the Donbass.
Colorful footage of the combat work of the Russian heavy flamethrower system TOS-1A "Solntsepyok" was published on the Web while adjusting the fire by the soldiers of the assault battalion "Somalia" of the NM of the DPR in the Pesok region. The video is dated August 10th.
It should be noted that the fortified area of ​​the Armed Forces of Ukraine in this area was incredibly powerful and one of the decisive moments of the assault was documented on the footage. It was after accurate hits that the resistance of the Armed Forces of Ukraine and the attached forces in the form of national battalions was broken. TOS are used by RKhBZ units to destroy buildings with a volumetric explosion, as well as to destroy enemy manpower in fortifications.
After the application of TOS, as the military correspondents assure, further cleaning up the Sand "became a matter
equipment
". The main task was completed - the allied forces broke through the front line and began to push Ukrainian troops away from Donetsk, which is under incessant shelling of the Armed Forces of Ukraine.