It became known that one of the drilling platforms of SUE RU "Chernomorneftegaz" (Simferopol), located in the northwestern Black Sea, continues to burn. It was subjected to a missile attack by the Armed Forces of Ukraine two months ago, and the fire on it has not been extinguished to this day. This is evidenced by the data of monitoring resources.
It should be noted that environmentalists and caring public figures are following the development of the situation with concern. They are
regularly
publish satellite images that show the combustion process at an engineering complex designed for the extraction of hydrocarbon raw materials.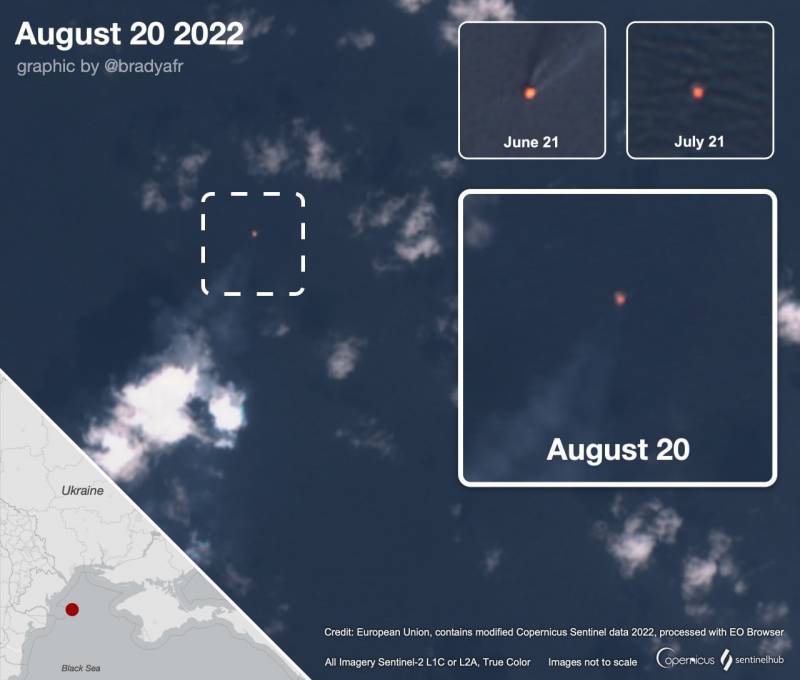 June 20 APU
fired
objects (block conductors) BK-1, BK-2 and BK-3, which were developing the Odessa and Bezymyanny gas fields on the Black Sea shelf. At that moment, there were 109 people on the towers. Then 3 people were injured, and 7 were missing. On June 26, the Ukrainian military fired again at the drilling rigs. The biggest damage was on BK-1.
Senator of the Federation Council of the Russian Federation from Crimea Olga Kovitidi later reported that the fire on the tower could not be extinguished - the fire reached the well. At the same time, experts in the gas industry believe that extinguishing an underwater fire is a very difficult and expensive undertaking, and even during the ongoing hostilities.