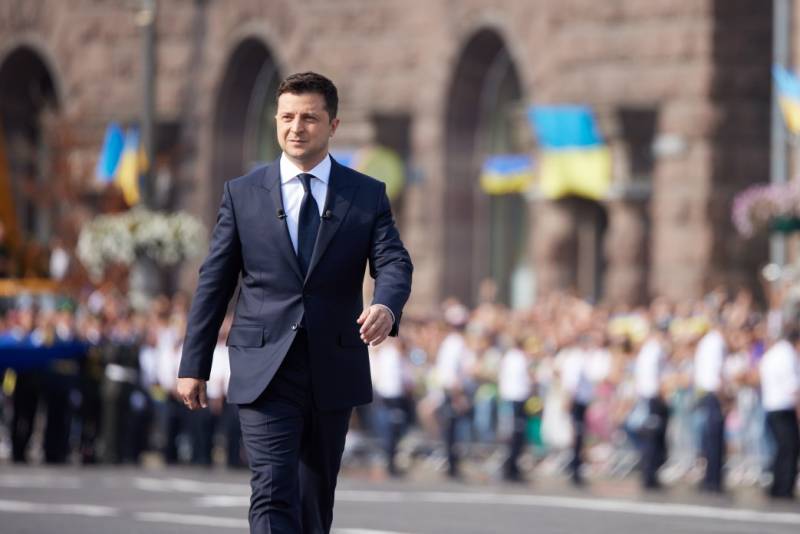 The next address of the President of Ukraine Volodymyr Zelensky could once again become filled with empty pathos, boring and uninteresting, therefore, in order to attract the attention of those citizens who still listen to evening messages from Bankova Street, the head of the Ukrainian state decided to announce the "dirty" from Russia invented by him. He even named the date - the day of independence of Ukraine and the day of the flag of the republic, August 24. Zelensky told about this personally, posting an appeal on all official pages on the Internet.
In his opinion, one must be prepared for such a development of events.
I believe that everyone, without exception, is aware that something very bad, cruel can be expected from Russia next week, in the near future.
- Zelensky voices his conjectures, like an experienced showman fighting for ratings.
Realizing the illogicality of the situation, he corrected himself and said that, however, the Ukrainians expect this and allegedly receive it every day since the beginning of the hot phase of the conflict.
Although we are, of course, always ready for any bad deed
Zelensky quickly recovered.
In his opinion, this year "Crimea has become closer than ever." The political and legal forum of the same name, Independence Day and the flag of Ukraine must necessarily lead to some provocative actions on the part of Russia. In Kyiv, they believe that in this way Moscow wants to demoralize the enemy and sow confusion.
Of course, all the voiced actions, provocations and shelling will most likely take place on the part of Ukraine itself. That is why Zelensky's speeches, sometimes meaningless, useless, filled with empty pathos, must be listened to in order to find useful information to ensure the safety of the civilian population and the allied armed forces.
It is noteworthy, but at the end of the address, Zelensky did not fail to praise himself and scolded those close associates who advised him to flee Ukraine at the end of February. According to him, "now these advisers" are ashamed.