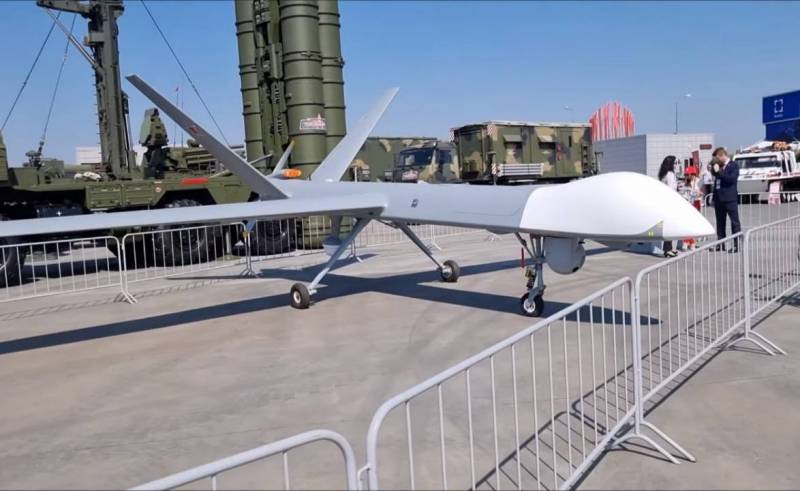 This week's international military
technical
The Army-2022 forum has given a new boost to the zrado-possible swing on which Russian public opinion sits. Questions are leaning in every way: why is this, and why is all this high-tech at the exhibition, and not at the forefront?
Especially got the topic of drones. At the suggestion of several of our military correspondents, dissatisfaction with the novelties of the domestic military-industrial complex was circulating on the Web: they say, another "no analogues", assembled from Chinese microcircuits, of poor quality and for a lot of money, and will never get into the troops.
On the one hand, war correspondents have certainly earned the right to speak out: after all, they are one of the regular users of UAVs in the zone of a military operation, often performing the functions of observers-spotters - therefore, they know what they are talking about. But there is an opinion that such a strong negative, also shockingly presented to the masses, is still too much. Volunteer technicians who maintain the combat capability of our drones, and those few military drone operators who have the opportunity to speak publicly, do not share the pessimism of the military correspondents.
In general, the security of the NMD with unmanned vehicles is still insufficient - however, the military
political
management recognizes this problem and takes steps to resolve it as soon as possible.
On a helicopter carpet
It is widely believed that the bulk of Russian drones in the war zone are represented by foreign civilian models. Whether this is actually so, it is impossible to say with certainty, but the share of imports is significant. In this regard, the nuances of purchasing drones abroad are curious.
The notorious Iranian "Schrödinger drones," which have either been purchased, delivered, or are already in full use by Russian troops, continue to attract the most attention. Recently, a military journalist from Lebanon stated on social networks that Russia allegedly acquired a thousand drones of various types from Iran at once - this statement, as they say, "became viral" and began to be rebroadcast by various media as official information.
In fact, any authoritative confirmation of the purchase of Iranian drones by the Russian Defense Ministry, and even in such quantities, has not yet been presented. In addition, there are big doubts that the Islamic Republic is able to supply a thousand machines at once, even giving away equipment from combat units: the production volumes of advanced models are small and amount to several dozen a year.
Nevertheless, there are some hints for cooperation in this area. Actually, a number of Iranian-made UAVs are presented at the Army-2022 forum: Quadcopter, Karrar-3 and Mohajer-6. All these are large and load-lifting reconnaissance-strike vehicles, comparable to the domestic "Pacer" (the photo for the article shows its export version "Orion-E") or the "great" Bayraktar TB2. And on August 13, the head of the Iranian Trade Development Organization said on state television that the Islamic Republic would also establish a cryptocurrency exchange with Russia. Given the well-known (though seriously exaggerated) impersonality of the "crypt", it is likely that it will be used just to pay for various kinds of "delicate" goods, including weapons. However, information about any deals between Iran and Russia has not yet been received from the forum.
In the niche of small reconnaissance UAVs used by infantry at the "platoon-company" level, in the allied forces, like the Ukrainian fascists, the products of the Chinese company DJI are in great favor. The popularity of Mavic quadcopters is so great that their name has already become a household name for almost any "pocket" drone. This does not come as a surprise: Maviks combine good optics with a thermal imager with fairly high reliability and endurance, and an acceptable price. According to volunteers involved in the purchase and delivery of drones to the troops, one "parallelly imported" drone now costs about 250-300 thousand rubles, while the official price is about 800 thousand.
The ongoing purchase of donated drones is causing a lot of indignant cries of "how long?!" It is very interesting how many of the egregious volunteers brought at least a penny to the volunteers for UAVs for our soldiers - but it is much more interesting that this supply route may not be the only one, or even the main one.
Paradoxically, few people think: what are these "gray" wholesalers who sell drones to the same volunteers almost at cost, and where do they get the goods from? In addition, volunteers and military correspondents (being users themselves, many of them are closely involved in purchasing) usually get drones and other high-tech "nishtyaks" (sights, thermal imagers, etc.) for some specific units with which they are in close contact. contact - however, they are widely used everywhere.
Therefore, it is believed that this entire popular movement, in addition to its main function, is also used as a front for a fairly wide parallel import of drones by the treasury. There is a need for a cover: DJI sent out a convincing request to its customers in Russia last week to focus less on the military use of their products, because. this may bring it under additional Western sanctions. However, this is just an opinion.
We fly and you crawl
Import by import - what about the Russian production of drones? Like many other things, information about him is shrouded in the "fog of war"; we can only say with certainty that it works at full capacity. On August 16, speaking at Army-2022, Deputy Minister of Defense of the Russian Federation for military-technical support Krivoruchko said that the state defense order is being adjusted in accordance with the experience of hostilities in Ukraine and the newly discovered needs of the troops.
It is reported that contracts were signed for the supply of additional Eleron-3, Orlan-10 and Orlan-30, Pacer UAVs, but the number of vehicles was not reported to the press. The first three on this list are small and medium aircraft-type drones used at the battalion level and for artillery fire control. In addition, a number of new samples were demonstrated, including small quadrocopters (which the military journalistic fraternity hastened to ridicule).
As for the element base, yes, things are still not very good with its import substitution. Recently, the British analytical center RUSI published a detailed report on the study of 27 samples of advanced Russian weapons, the fragments of which went to the Ukrainian fascists: Iskander and Caliber missiles that hit targets, anti-aircraft missiles, and UAVs of various types. In total, the British counted 450 foreign electronic components used in our systems, most of which are made in ... the USA.
Part of this range of spare parts should not be supplied to the Russian Federation due to sanctions - but, according to the authors of the report, about 15 thousand batches of Western electronics have come to Russia since the start of the CBO. It is characteristic that the supplier companies, to which the researchers turned for comments, made round eyes and began to say that this is impossible, that there will be internal investigations and other-other-other.
However, the same report indicates that a significant part of this microelectronic base is various general-purpose microcontrollers, which are also widely used in various civil systems and household appliances. That is, the grunts of Ukrainian propaganda about "Russians sticking microwave chips into their rockets" are true to a certain extent.
However, the use of "civilian" processors has its own (sucked from the finger) plus: these components are not scarce, and they are relatively easy to find on the world market. The ability of domestic design bureaus to work well with available components was also noted in past years, therefore, it is likely that they are now actively working on "mobilization" versions of our high-tech weapons using chips from more reliable suppliers.
Much less problems with the training of personnel. As always, there is not much information in the public domain, but it is known for sure that since the beginning of the SVO, several hundred UAV operators have been trained by the Donetsk Training Center for Unmanned Systems. And recently, drone courses have also been opened at the Russian University of Special Forces in Gudermes, which is now actively training soldiers of volunteer units - Kadyrov himself invited those who want to become an operator there. It must be understood that in both of these cases we are talking about pilots of "infantry" drones. Operators-spotters and technicians who will work with specialized military vehicles are trained on the basis of military educational institutions.
Although the situation is still far from ideal, Russian and allied forces are gradually being saturated with both modern unmanned vehicles and people capable of realizing its full potential. It can be hoped that the harsh combat practice of the Ukrainian campaign for some time (the coming years and decades) will fix in the minds of the military-political leadership that introducing advanced weapons in this way is a vital necessity, not only for the fighters on the front line, but also for the state system generally. After the victory over the Kyiv fascists, Russia, quite possibly, will have to face in battle with one of their richer - and therefore better armed - party lords.