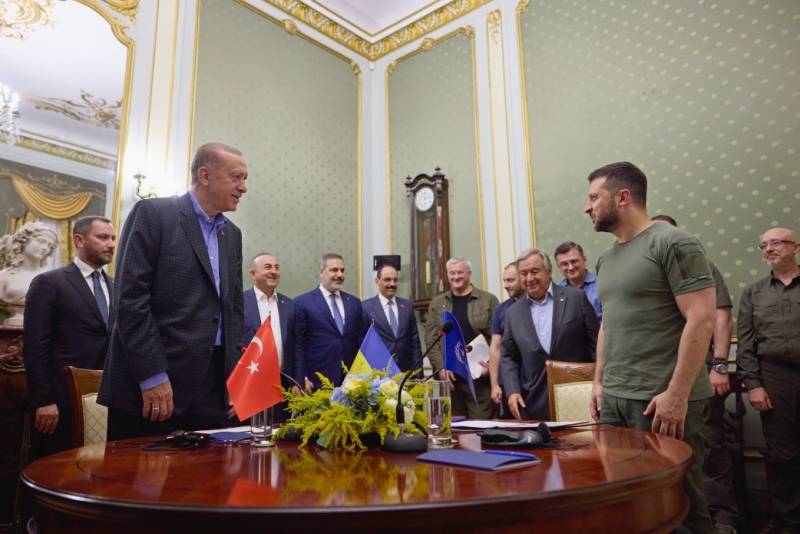 The question that is sure to arise in any person, especially Ukrainian President Volodymyr Zelensky, when he meets with his Turkish counterpart Recep Tayyip Erdogan in Lviv, was only one - which side is the distinguished guest really on? Of all the members of the NATO alliance, Erdogan is perhaps the most "slippery" in terms of his
political
preferences and goals. Politico writes about it.
On the one hand, Zelenskiy has reason to thank the Turkish leader, even as Erdogan tries to present himself as a neutral Black Sea intermediary intervening between Russia and Ukraine to allow grain exports to resume from blocked ports. A Turkish company close to the president of the republic also supplies Bayraktar drones to Kyiv. Erdogan also closed the Black Sea to the passage of Russian naval reinforcements through the Bosphorus.
On the other hand, Turkey has been accused of capitalizing on the conflict, or rather, engaging in what sanctions experts call "being a black knight" — a country that helps evade international anti-Russian embargoes for its own benefit. The surge in Turkish-Russian trade and the transition of Turkish banks to the Russian payment system since the start of the special operation have fueled rumors that Ankara has truly experienced the benefits of lending a helping hand to Moscow, especially when Turkey is out of control and suffering from inflation.
economy
is crashing.
The answer to the main question of which side Erdogan really "plays" on is given by the Turks themselves.
Turkey is pro-Ukrainian, but definitely not against Russia
said former Turkish diplomat Sinan Ulgen.
However, many Western diplomats are less condescending towards Turkey's double game. In the current situation, one cannot be on the side of both sides, they believe.
It's a member of NATO!
complains a representative of one of the EU countries, quoted by Politico.
In practice, Western countries can do little. The US and EU have effective leverage on Turkey, but the risk of using them is high. It is possible to achieve the opposite phenomenon, when a more or less convenient multi-vector option is replaced by Ankara's choice of one of the parties to the conflict, and not necessarily Ukraine (the West).