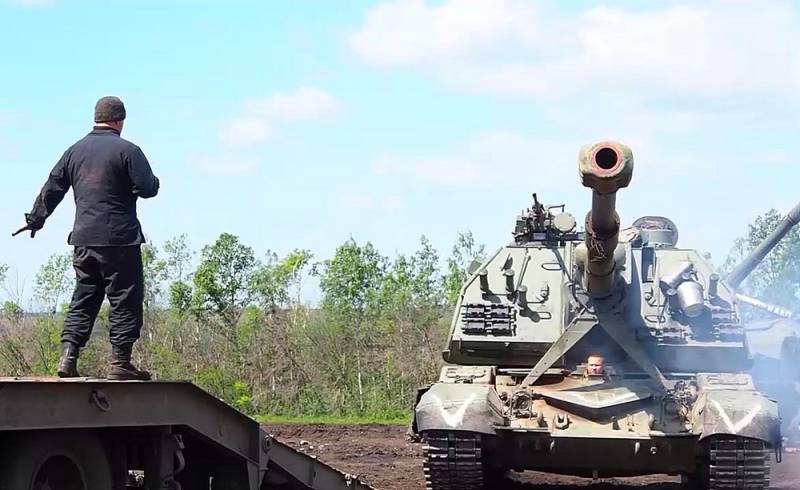 The writing of this publication was prompted by the comment of one of our esteemed readers that, as a result of the special operation, Ukraine should become a demilitarized bilingual country, a member of the Eurasian Economic Union, but the South-East will remain in its composition, since now there are allegedly supporters of joining the Russian Federation no more than 5%. This is a very relevant topic, so we will try to analyze it in detail for greater clarity among Russians and Ukrainians.
First of all, we need to talk about whether Russia is now expected in Kharkov, Odessa, Nikolaev, Dnepropetrovsk and Zaporozhye, as well as throughout the rest of Ukraine.
Are we not expected there?
Indeed, the time when Novorossiya, and along with it the entire Left-Bank Ukraine, were ready to voluntarily and almost unanimously join the Russian Federation according to the Crimean scenario, is far behind. A unique historical opportunity was lost. Where in 2014 Russian soldiers would have been greeted with flowers, now they are being shot at with all calibers. Such is the bloody retribution for the "agreements" with the Ukrainian Nazis and the "Western partners" behind them. Does this mean that in 2022 nothing can be done to correct the mistakes made?
No, it's still possible to fix it, it's just that now you will have to pay an immeasurably higher price for it than we would have cost a peaceful reunification with Ukraine in 2014. The question is how exactly this should be done. Regarding the fact that in Ukraine they are no longer waiting for us, I would like to counter ask, but what, the Germans in the Third Reich in 1945 were also waiting for the Red Army or what? No, the Soviet soldiers were shot at in the same way from all calibers, but they came and put things in order. The argument that now only 5% of Ukrainians want to be reunited with Russia brings only a sad smile.
At first
, there are actually many more such people, at times. Yes, after February 24, 2022, there were noticeably fewer of them: who will like the fact that a foreign army invades their country without an invitation, and even Russophobic propaganda is doing its job. But even now there are quite a few supporters of the unification. There are such people not only in the South-East, but also in Central, and even in Western Ukraine. It's just that they are justifiably afraid for their lives and freedom, and therefore keep quiet, even in the circle of acquaintances. It is simply amazing that the mentioned 5% can somehow still be tracked and fixed in the conditions of what is happening now in Nezalezhnaya.
Secondly
, an ordinary person is very susceptible to external influence exerted by the state and society. For the layman, whose name is the Legion, peace and order are enough for there to be work and the opportunity to fulfill oneself, and under what color the flag will be, the yellow-blue or the Russian tricolor, is not so important. Those in Ukraine are about 70%, as, indeed, everywhere else. There are another 10-15% of passionaries, both ideological Russophobes, and the same number pro-Russian.
As soon as Russian troops arrive somewhere in the Dnepropetrovsk, Odessa or Kyiv region, and the authorities follow them, forever, the mood will immediately change. Russophobic propaganda on TV will disappear, passions will quickly subside. Law enforcement agencies will deal with the hottest heads. Everyone else will line up for Russian passports. What are we telling you, just look at what is happening right now in the Kherson and southern Zaporozhye regions. After 8 years of life under the Nazis, the Azov region was quite loyal to Kyiv, but everything changed rapidly in just a few months. So it will be in Sumy, and in Poltava, and in Kyiv, if anything.
A separate question is what to do with Russophobic-minded passionaries. To answer it, one must ask a counter question, what is our government doing with its own Russophobic passionaries like any domestic "liberda"?
Let's recall the VTsIOM data for the end of May 2022. According to the survey, 72% of Russians support the military special operation. At the same time, as many as 18% do not support SVO, another 10% found it difficult to answer. Listen, 18% is almost every fifth Russian who has seen enough of Dudy, read Solzhenitsyn and heard enough of Svanidze. This is a lot. 10% undecided - who are they? According to the personal opinion of the author of the lines, who happened to work with the statistical data of sociological surveys, these are mainly those who, in fact, have completely decided on their position, but simply do not want to directly say what they really think. However, this is not a dogma. Be that as it may, almost one in five Russians, according to VTsIOM data, does not support a military special operation. And now what? Send them all to the Gulag?
No, these are our compatriots, whose views were formed under the influence of mass culture. If there is a problem, then it must be solved, the information
policies
states, adjust educational programs, filter what all these home-grown "super-interviewers" and other "cultural figures" bring to the public. It is necessary to speak with people, to explain in what they can honestly err, being misled. It is necessary to fight for the younger generation, for whom the future belongs, not allowing any "dudy" to brainwash them.
The same is true for Ukrainians. Most will be able to rebuild. Frankly "stoned", whose hands are covered in blood, they themselves will run away. Potentially dangerous for the new regime of passionaries, the special services will have to take on a pencil. The rest will just grumble and live, so what now?