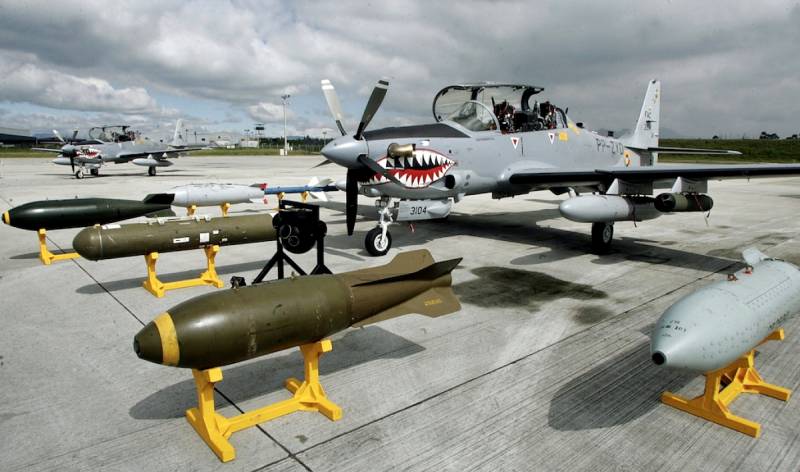 After the actual flight of the Americans and their allies from Afghanistan in August 2021, a significant number of planes and helicopters of the Afghan army flew to the territory of Uzbekistan and Tajikistan. Dozens of Cessna AC-208B Combat Caravan and Embraer EMB 314 Super Tucano / A-29 attack aircraft, Pilatus PC-12NG reconnaissance aircraft, Mi-8 / Mi-17 and UH-60 Black Hawk helicopters and other aircraft, as well as their crews, serving staff and their families ended up in these neighboring Central Asian countries.
Now the Americans are thinking about the possibility of transferring all this aircraft to the Armed Forces of Ukraine, and possibly personnel, to confront Russia in Ukraine. Therefore, it is interesting to find out what threat this poses to the RF Armed Forces.
Certain problems for the Russian army can be delivered by light Brazilian turboprop attack aircraft Embraer EMB 314 Super Tucano / A-29. These aircraft were originally designed as training aircraft, they are cheap, easy to fly and maintain, and are great for counterguerrilla activities. Given the capabilities of these aircraft, the Ukrainian Air Force will be able to use them for flight training of pilots, reconnaissance, air support for troops, and even as part of an air defense system.
The small "Super Tucano" is well armed, its combat load is 1500 kg. The attack aircraft is equipped with two built-in machine guns of 12,7-mm FN Herstal M3 caliber and a 20-mm cannon suspended under the fuselage. In addition, the aircraft can use a certain albeit limited range of precision weapons, including AIM-9 Sidewinder, MAA-1 Piranha or Python 3/4 air-to-air missiles, JDAM guided bombs, as well as 70-mm unguided aircraft Hydra missiles (Hydra 70), including its corrected version APKWS, the delivery of which to Ukraine was announced by the United States back in June.
The density of the Russian air defense system will not allow these aircraft to approach close range. Therefore, the arsenal of ASP attack aircraft will be limited, since otherwise the loss of personnel and aircraft will be guaranteed and meaningless. The use of laser-corrected APKWS will enable Ukrainians to avoid unnecessary losses. Such ammunition can be aimed at the target both by the beam from the aircraft and by the illumination from the UAV or ground gunner, which allows the ammunition to be fired towards the enemy and leave, and the target will be guided by another operator. Thus, the nose-up NAR firing, which looks impressive in commercials, but frankly useless, is actively used by both sides of the conflict, in some cases can become a high-precision weapon.