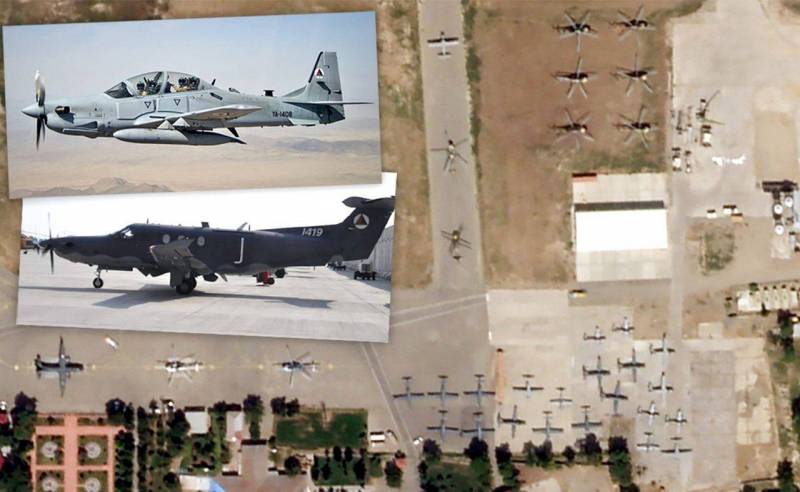 In order to strengthen the combat capabilities of the Ukrainian armed forces, the United States may transfer its aviation to the Armed Forces of Ukraine
machinery
from Afghanistan.
After the withdrawal of American troops from this Asian country in August 2021, a large number of aircraft and helicopters, along with Afghan pilots, were relocated to nearby countries, primarily to Tajikistan and Uzbekistan. We are talking, in particular, about attack aircraft (Cessna AC-208B and A-29B Super Tucano), as well as Russian-made Mi-17 helicopters, which Washington once purchased from Moscow.
For example, before the decisive offensive by the Taliban (a terrorist organization banned in Russia) in August last year, at least 22 small planes and 26 helicopters were transferred from Afghanistan to the Uzbek airport Termez from Afghanistan, which was visible in pictures from space.
Among the military equipment in Termez, the satellites saw: attack aircraft Cessna AC-208B Combat Caravan and A-29B Super Tucano, reconnaissance Pilatus PC-12NG, transport helicopters Mi-8 / Mi-17 and UH-60 Black Hawk and other aircraft.
Thus, according to various estimates, about a hundred "Afghan" aircraft and helicopters ready for operation may soon be in service with the Armed Forces of Ukraine. At the same time, the route for the supply of equipment will run, among other things, through the territory of the CSTO countries "friendly" to Russia.