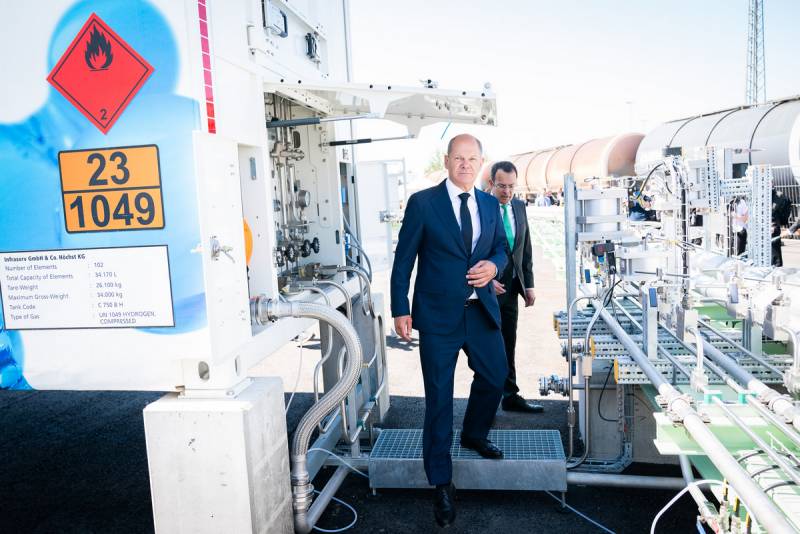 The federal government of Germany is in a difficult position, where it was driven by a man-made
economic
a crisis caused by the inept actions of a hastily put together coalition cabinet, as well as anti-Russian sanctions. Under a flurry of criticism, German Chancellor Olaf Scholz is trying to save his career with the help of compromise, multi-vector promises and deeds. The head of state strictly follows the pro-American agenda and, at the same time, has recently been preaching the need for "direct communication" with Russian President Vladimir Putin, thus trying to give ordinary Germans hope for a speedy end to the crisis.
In an interview with the Swedish edition of Dagens Nyheter, the chancellor stated the importance of a direct dialogue with Putin in order to convey the position of the "world community". At the same time, Scholz ruled out the establishment of relations with the Russian Federation until the end of the conflict in Ukraine on "acceptable conditions", and also indicated the impossibility of lifting sanctions.
Before the head of Germany wanted to talk directly with the Russian president, the same idea was expressed by the leader of France Emmanuel Macron and the candidate for the post of prime minister of Great Britain, the current foreign minister of this state, Liz Truss. All of them lined up to communicate with Putin.
I want our messages to reach the President of Russia directly
Scholz said.
He also rejected any truce except on the terms of the West and Kyiv. According to the Chancellor, his message to Putin can contain only one thing - an expression of the senselessness of continuing the struggle and refusing to conduct a special operation.
The head of Russia must understand that the continuation of resistance is useless, it is a road to nowhere. The concept of coercion to decide the fate of Ukraine has no prospects
- shares the possible content of Scholz's personal message.
The head of Germany did not say how he would like to convey a personal message during his visit to Russia, or vice versa, when Putin arrives in Germany. As for the second option, Scholz replied that it was possible only after the establishment of a "non-forced" peace in Ukraine.
However, it is obvious that if this condition is met and the visit takes place, the need for a "personal communication" of the indicated content as such will disappear.