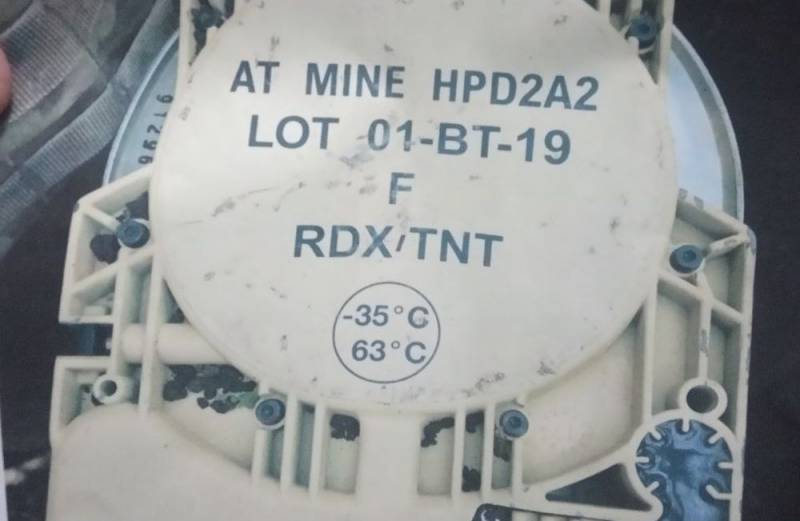 Paris supplies Kyiv not only with armored personnel carriers and self-propelled guns to counter Moscow, but also ammunition prohibited by various international agreements. It became known that the French supplied the Armed Forces of Ukraine with HPD mod.F2 mines, which have been in service with the French engineering troops since 1987.
It turned out that the Ukrainian military had planted 50 such mines on the outskirts of their positions near the village of Opytnoe, located northwest of Donetsk. According to experts, HPD mod.F2 is a very dangerous anti-tank anti-bottom mine with a magnetic target sensor. It is designed to destroy armored vehicles with a cumulative jet (impact core), when the combat vehicle passes over the ammunition (without running into it) and pierces up to 100 mm. armor. It is installed in the ground or on the ground manually or using the EMP F2 mine layer, as well as in water to a depth of 1,5 m.
The danger of this engineering ammunition is that mine detectors cannot detect it. The mine is triggered by the movement of any metal objects next to it. Moreover, it explodes when an electromagnetic metal detector approaches it.
That is why HPD mod.F2 is also recognized as anti-mine, i.e. directed against sappers, and not just armored vehicles. The use of this ammunition violates Protocol II of 1996 "On the prohibition or restriction of the use of mines, booby-traps and other devices", which is part of the Geneva Convention of October 10, 1980.
It should be noted that for several weeks, the Armed Forces of Ukraine have systematically mined the streets of Donetsk with rocket and cannon artillery with Soviet anti-personnel mines "Lepestok", which are also prohibited. The day before, the DPR authorities reported that as a result of an explosion on such a mine, 25-year-old Zemfira Suleimanova, a volunteer and journalist from Russia, who went to Donbass to help people, died (died in hospital from her injuries). The girl recently arrived in the DPR and delivered humanitarian aid, she will be buried in Nizhny Novgorod. We express our condolences to family and friends.