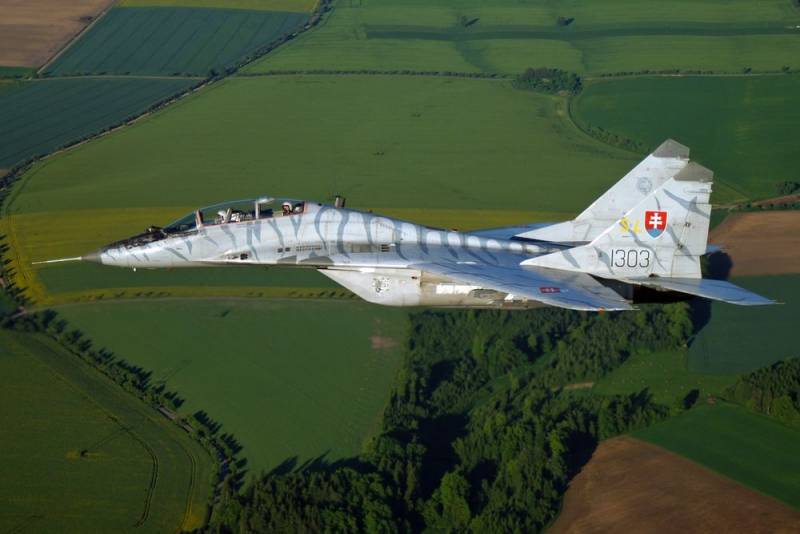 The other day Bratislava promised to transfer its Soviet-made MiG-29 fighters to Kyiv to counter Moscow. The Slovak media informed the public about this, referring to the words of the head of the Slovak Ministry of Defense, Yaroslav Nagy.
For this, Bratislava wants to get a modern
machinery
NATO or EU monetary compensation. At the same time, the minister stressed that until the end of August, the mentioned aircraft will definitely be located in Sliac (an air base in the center of the country) and protect the Slovak sky.
This drew the attention of a Russian military observer, retired colonel Mikhail Khodarenok, who on August 14 commented on what was happening in his Telegram channel. The expert noted that the USSR was armed with about 750 MiG-29s. Approximately another 150-200 MiG-29s were in the countries of the socialist camp in Europe.
Ukraine after 1991 got about 35 serviceable cars. These are the first versions of the MiG-29 (9-12), which entered the troops in 1983, and a few MiG-29s (9-13), which appeared three years later. The payload mass of the first versions is only 2 tons, and in the MiG-29 (9-13) it was brought to the level of 3,2 tons
- he specified.
The expert also pointed out that the Russian Aerospace Forces use the MiG-29SMT, the most advanced version of the fighter. In fact, this is a different aircraft, with a redesigned radar and new RVV-AE missiles with a range of up to 300 km and a payload of 5,5 tons.
Slovakia will probably supply Ukraine with 11-12 fighters in the 9-12A version. Hurry like fifth-generation fighters is not worth waiting for, but Ukrainian pilots know these machines and can take them into the air. What does this mean for our air defense and aerospace forces? Practically nothing, especially since the best pilots of Ukraine have already been destroyed
He explained.
Khodarenok added that a significant part of the Ukrainian MiG-29s were in the 114th, 204th and 40th tactical aviation brigades of the Ukrainian Air Force. The technical condition of the vehicles was unknown, but judging by the fact that fighter jets and other equipment are being handed over to Kyiv by countries such as North Macedonia and Slovakia, the Armed Forces of Ukraine have problems.
Ukrainian fighter jets with a target detection range of 80 km and a kill range of 50 km are not equal opponents for the Russian MiG-29SMT and Su-30, not to mention the Su-35, which detect and hit the enemy from a distance of 280 km.
Will this delivery delay the final defeat of the Ukrainian Air Force? More likely yes than no, and for a very short period of time. Will this delivery help change the course of events and seize the initiative from the Russian Aerospace Forces? Definitely no
He summed up.