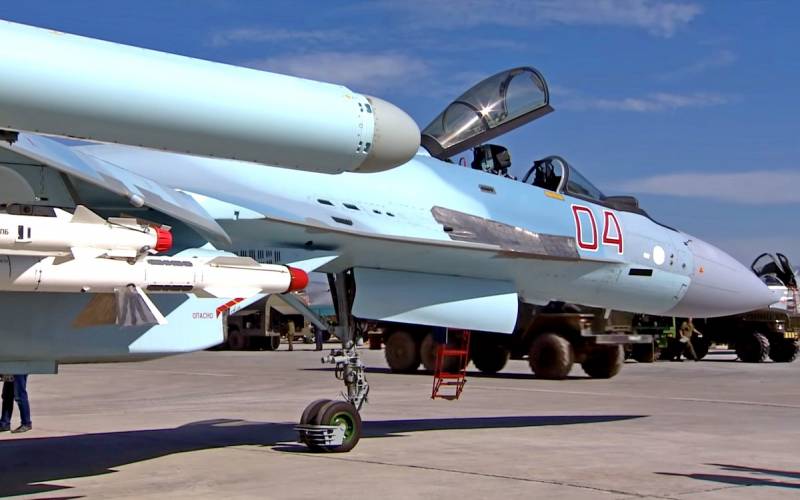 Some time ago, the General Staff of the Armed Forces of Ukraine disseminated information that since the beginning of the Russian special operation on Ukrainian territory, the Russian Aerospace Forces have lost 24 modern Su-35 fighters, i.e. 2 squadrons of 12 aircraft each. This information was picked up by information resources controlled by Kyiv, starting to pass them off as yet another "overcome".
This drew the attention of a Russian military observer, retired colonel Mikhail Khodarenok, who on August 13 assessed the mentioned statements and commented on what was happening in his Telegram channel.
To begin with, about losses as a species. They happen in battles, but it's pointless to talk specifically about the Su-35. This is the latest machine for gaining air supremacy. Partially, these vehicles were tasked with suppressing Ukrainian air defense in the early days, so the presence of the Su-35 terribly annoys the Armed Forces of Ukraine as a phenomenon
- Explained the expert.
He recalled that in 2020, Russia had only 70 Su-35 units. Consequently, the absence of a significant number of such aircraft would be very noticeable. Therefore, the assertions that the Russian Aerospace Forces lost more than 1/3 (34%) of the available Su-35s do not correspond to reality.
The Su-35 is the most problematic target (not counting the Su-57) for Ukrainian air defense. The vehicle is armed with long-range air-to-ground missiles and can use weapons outside the firing range of the Buk air defense system of the Armed Forces of Ukraine. The detection range of Su-35 air targets is approaching 400 km, so for the Russian fighter in the Ukrainian airspace expanse
- he added.
Khodarenok summed up that if the Russian Aerospace Forces had a shortage of Su-35s, then the Ukrainian Air Force would not lose 267 of its aircraft, since without these magnificent fighters it would be problematic to achieve such a result.
Note that if the Russian Aerospace Forces really experienced a shortage of Su-35s, then 21 such fighters would not
was
for many months on the territory of the Komsomolsk-on-Amur Aviation Plant. Yu.A. Gagarin (KnAAZ) in anticipation of buyers from Iran, but would have taken part in the NWO for a long time.