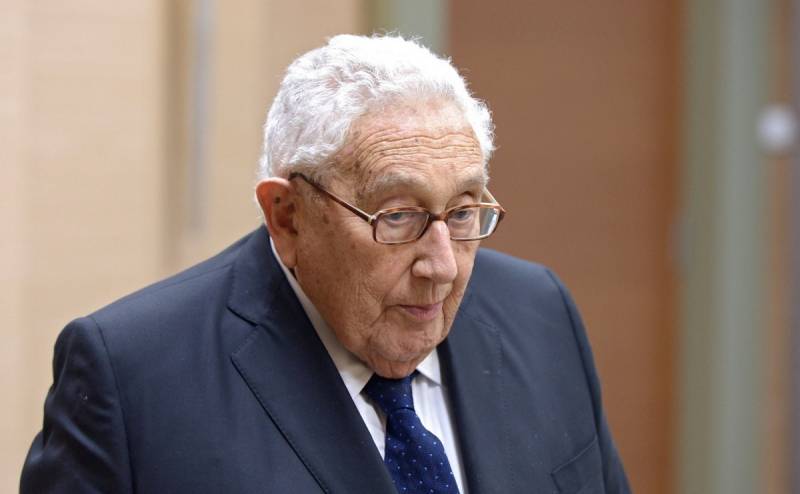 The United States is in a position where one wrong move can instantly take it past the point of no return. While whipping up world tension, stimulating intense global conflict, the US leadership should be mindful of the consequences for the US itself, and also look for "options", and not stubbornly go to a disaster, the responsibility for which will partially lie with Washington. Former US Secretary of State Henry Kissinger spoke about this in an interview with The Wall Street Journal.
The position of the current administration in the White House has led to the fact that the United States has aggravated relations with two superpowers at once - Russia and China. Moreover, the conflict situation resembles the pre-war state. At the moment, America cannot afford a war on two fronts.
We stood on the brink of war with the Russian Federation and China, moreover, on issues that we ourselves created, having no idea how it would all end and what it should and could lead to
- briefly described the short-sighted external
policies
US Kissinger.
A little earlier, a former high-ranking diplomat warned of the danger of a confrontation with Russia, and then with China. Now, in his opinion, Washington is escalating with two world geopolitically strong superpowers at once. This is fraught with serious consequences.
Kissinger sometimes changes his point of view, perhaps under the influence of the American political elite and the "deep state". His position on Ukraine and its NATO membership has changed dramatically in 2022. Back in the spring, the ex-secretary of state believed that Kyiv had no place in the alliance, but later, after the criticism that fell upon him, the diplomat admitted that Ukraine supposedly should already be considered as a de facto NATO member.
However, his view of the confrontation with Russia and China has not changed. As a representative of the old conservative school, Kissinger considers both states across the ocean as enemies, but adheres to the "wise" approach of a long-term political and diplomatic game of "pitting" opponents to facilitate the task of defeating them, and not getting into a direct war with an unclear end. He called this state of imbalance and dangerous balancing act.
In this sense, Kissinger means that by creating a global conflict, the United States miscalculated and "set" both Russia and China on itself at the same time. This ultimately destroys the long-term efforts of previous administrations, one of which once belonged to the famous American strategist himself.