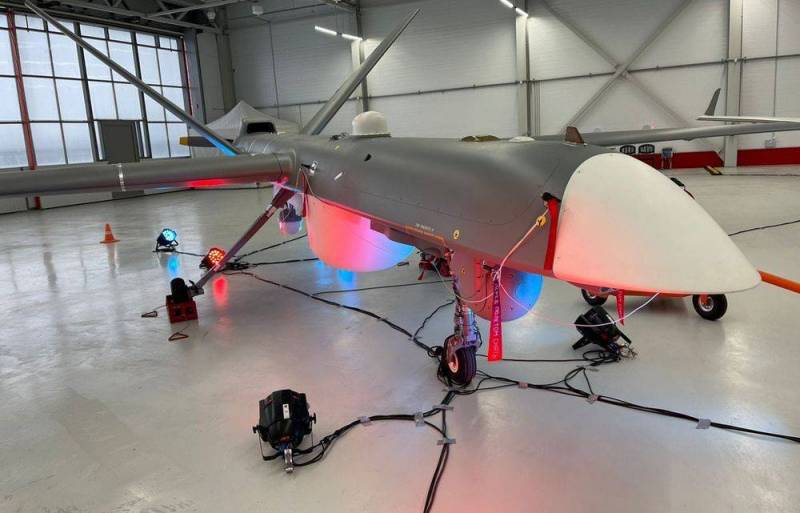 During the Russian special operation on Ukrainian territory, unmanned aircraft took an important place on the battlefield. The two main opponents on the front line of the advancing SVO and, accordingly, rivals in the arms market were the Turkish Bayraktar TB2 UAV, which the Armed Forces of Ukraine are equipped with, and its Russian counterpart Orion, known in the RF Armed Forces as "Pacer". On August 2, a military observer, reserve colonel Mikhail Khodarenok informed the public about this on his Telegram channel.
Although strike UAVs were created at about the same time, they represent completely different models of the military-industrial complex. "Bayraktar" before the start of the NMD "lit up" in Nagorno-Karabakh and Syria, and for "Pacer" Ukraine became the second battlefield after Syria
- the expert noted.
Khodarenok drew attention to the visual differences of the mentioned UAVs. Firstly, they differ in tail plumage: the heavier Pacer (maximum weight over 1 ton) is equipped with a V-shaped tail for better maneuverability, and Bayraktar (maximum weight 650 kg) received an inverted V tail, which simultaneously serves as a rudder direction and height.
Secondly, the Pacer has a normal aerodynamic layout, but the fuselage has a large elongation and an asymmetric cross section. Closer to the middle of the fuselage is a "fin" with electronic equipment inside. At "Bayraktar" the fuselage has the form of an integral two-beam low-wing, inside the central part of which all electronic units are hidden.
But this is all, so to speak, "cosmetics", differences
technical
drone parts are much more interesting
- the expert summed up, inviting readers to independently study the infographics he published on this issue.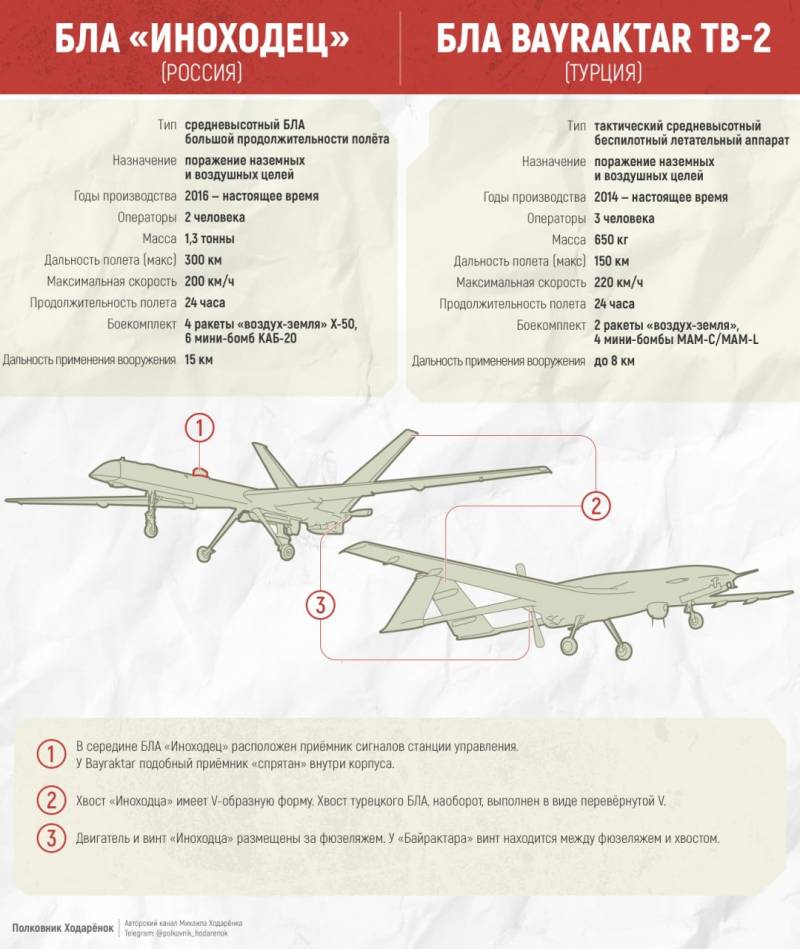 Note that both drones are equipped with internal combustion engines designed and manufactured by the Austrian company BRP-Rotax GmbH & Co KG, which belongs to the Canadian company Bombardier Recreational Products. "Pacer" uses a Rotax 914 with a power of 86 kW or 115 hp. s., and "Bayraktar" - Rotax 912 with a pusher-type propeller with a capacity of 100 liters. s., which run on motor gasoline with an octane rating of at least 95. At the same time, Agat, in cooperation with CIAM, is developing the Russian APD-110/120 engine to replace a foreign power unit, and the Turks are trying to replace a standing engine that previously fell under sanctions , its domestic development and Ukrainian products.