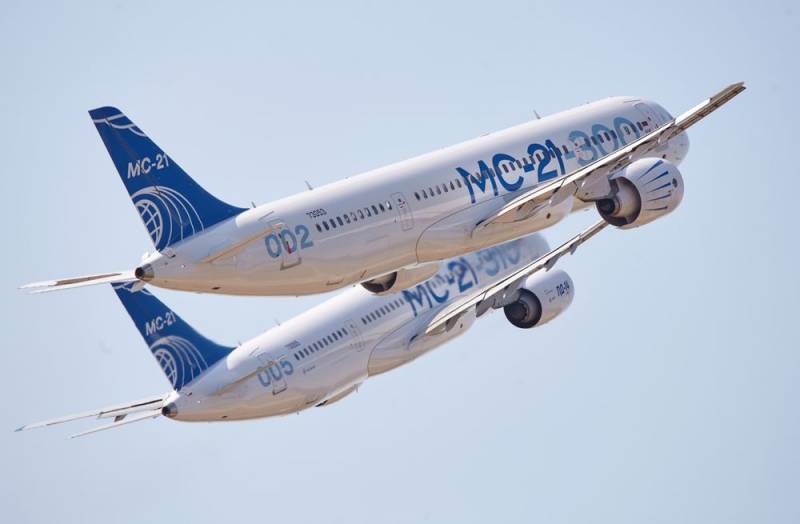 Import substitution in the Russian aviation industry has already reached certified aircraft. It turned out that soon all existing and under construction MC-21-300 liners may lose American Pratt & Whitney PW1400G (PW1428G) engines. The aircraft will be converted into MS-21-310, which will be equipped with Russian PD-14 power units manufactured by UEC-Perm Motors JSC. On August 10, the specialized information resource informed the public about this.
FrequentFlyers
.
The publication noted that at first the replacement of aircraft engines will affect the first test prototype with tail number 73051, released six years ago. The aircraft will make a series of flights with PD-14s, after which the aircraft engines will probably be replaced with the remaining MS-21-300s. Further production of medium-haul narrow-body airliners of the MS-21-300 series is not planned to stop dependence on foreign supplies.
It was noted that the PW1400G and PD-14 power units are not interchangeable. American and Russian aircraft engines differ in size, mountings, power and control systems, so a significant amount of rework will be necessary.
As for the PW1400G, in 2019, 21 such aircraft engines were ordered for the MS-300-40, which were supposed to arrive before the end of 2023. Moreover, they promised to bring 20 power units in 2022, but the deliveries were canceled due to anti-Russian restrictions. The sanctions also affected the timing of the delivery of the liners themselves to customers. For example, in 2022 Rossiya Airlines expected to receive six MS-21-300 units.
At the same time, the MS-21-310 liner has not yet been certified and only one aircraft with tail number 14, which recently made its 73055th test flight, is equipped with PD-21 aircraft engines. Since there will soon be two MS-310-250s, the certification process will speed up. The planes will have to make about XNUMX test flights on a pair, summed up the media.