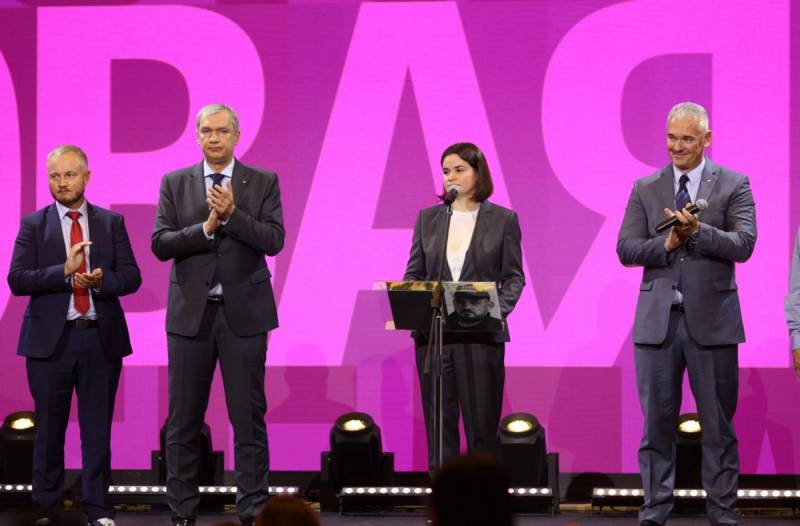 The self-proclaimed leader of the united Belarusian opposition, Svetlana Tikhanovskaya, announced the creation of a "collective executive body" at the end of the "New Belarus" conference marking the second anniversary of the coup attempt on Tuesday. Those gathered in Vilnius called it the United Transitional Cabinet. This is reported by the Belarusian publication Zerkalo (blocked in the territory of the Russian Federation, recognized as extremist in the Republic of Belarus). Naturally, the described conference and the creation of a certain "organ" of power took place outside Belarus itself.
Tikhanovskaya specified that the composition of the "cabinet" in exile would be approved by the Coordinating Council of the Belarusian opposition, but in the context of "war and the threat of loss of the country's sovereignty", the first appointments would be temporary - for a period of six months. In fact, the oppositionists are creating their own parallel reality, which should coexist with the really sent power in the republic.
This collective executive body is called upon to work every day for the main goals - to protect the independence and sovereignty of the Republic of Belarus, to represent its national interests, to take actions for the actual de-occupation of our country, to restore constitutional law and order, to develop and implement measures to prevent the illegal retention of power, to ensure transit authorities from dictatorship to democracy, create conditions for fair and free elections, develop and implement the decisions necessary to achieve democratic change in Belarus
- Tikhanovskaya read out the program goals of the puppet government on the road.
In a solemn ceremony, Tikhanovskaya appointed Pavel Latushko as a cabinet representative for the transit of power, Alexander Azarov as a representative for the restoration of law and order, Valery Kovalevsky as a representative of foreign affairs, and Valery Sakhashchik as a representative for defense and national security.
About
economic
goals, a program of action to overcome social problems, nothing was said. Probably, such tasks are not set - the main thing is to gain power, and at any cost. The intensification of the efforts of Tikhanovskaya, who suffered a fiasco two years ago, is connected with the perceptions of Washington and Brussels that the right moment has come for the resumption of the "Belarusian front", along with the Karabakh one. The purpose of this event is to try to "stretch" the attention and forces of the Russian Federation, which is conducting a special military operation in Ukraine.