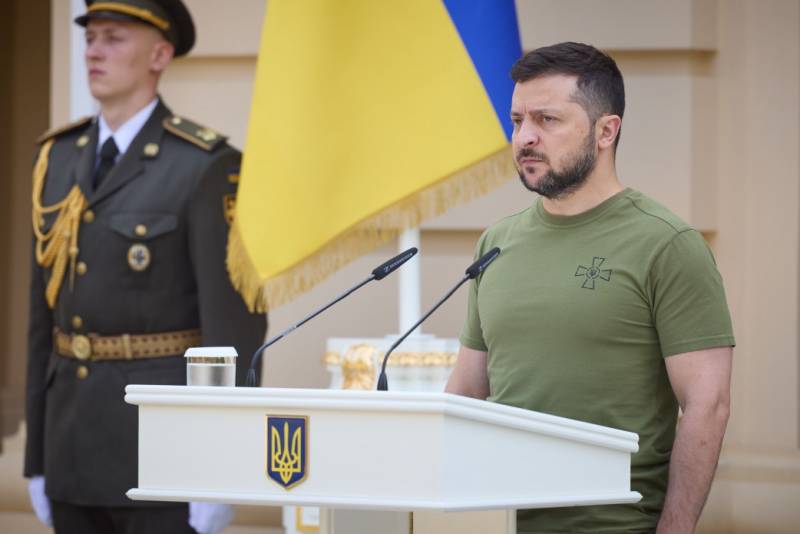 The Kyiv regime quickly hurried to "disown" the incident in the Crimea associated with the detonation of aviation ammunition at the military airfield in Novofedorivka. In Ukraine, they are well aware of the dangers of such an "increase in the degree" of the escalation of the conflict. However, the Ukrainians nevertheless decided to try to use the incident for their own propaganda purposes. This was done personally by the head of Ukraine Volodymyr Zelensky, who named the condition for ending the protracted conflict.
At the very beginning of the next "evening address", the leader of the Ukrainians once again (after the Ministry of Defense of Ukraine) shifted the responsibility for the explosions to the opposite side. It is noteworthy that so far no one has accused Ukraine of anything, but "denials" are heard from Kyiv more and more loudly. For example, that Ukraine is not responsible for the explosions at the Russian military base in Crimea, Mikhail Podolyak, an adviser to the head of the office of the President of Ukraine, also said. According to the preliminary version, voiced by the Ministry of Defense of the Russian Federation, the cause of the incident could be negligence and violation
equipment
security.
The presence of the Russian military in Crimea is a threat to all of Europe and global stability. There will be no stable and lasting peace in many countries on the Mediterranean coast as long as Russia is able to use Crimea as its military base
- this opinion was expressed by Zelensky during his traditional address to fellow citizens.
In his hands was a convenient occasion to remind about the useless Crimean platform, organized by Kyiv as an international association of like-minded people, which, however, uses the peninsula case only as a bait for creditors investing in a limping
the economy
Ukraine.
All the events many years ago in Ukraine began with the Crimea and should end on the peninsula.
That is, his release
- added the head of the Ukrainian state.
Zelensky, for all the time of his evening soporific messages, has exhausted sane topics for speeches. This time I decided to use the high-profile incident in the Crimea for the purpose of ridiculous propaganda. In general, Kyiv is happy with the incident in Novofedorivka, as it helped divert the attention of Ukrainians from the failed counteroffensive of the Armed Forces of Ukraine in the South and the deplorable state of affairs for the Kyiv authorities in Donbass. The rest of the video message is just empty rhetoric and slogans for mass consumption.