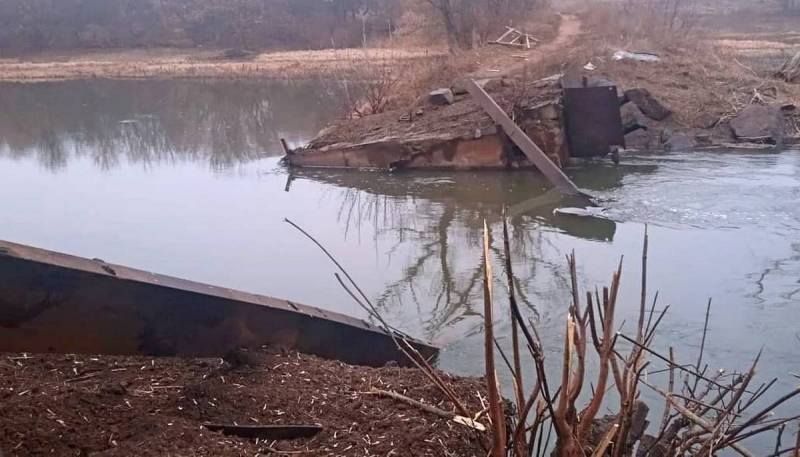 Since the beginning of the Russian special operation on Ukrainian territory, the Armed Forces of Ukraine have carried out mass destruction of bridges, dams and overpasses in order to stop the advance of the RF Armed Forces. However, it was not possible to achieve the desired, moreover, the Ukrainian troops harmed themselves. On August 9, a Russian military observer, reserve colonel Mikhail Khodarenok, told about this in his Telegram channel.
The expert noted that the example of Severodonetsk and Lisichansk clearly shows that the destruction of the transport infrastructure does not reduce the speed of advance of the troops of Russia and its allies.
It is interesting that the UAF actually drove itself into a corner by the thoughtless destruction of bridges and roads in Severodonetsk. The supply of the remnants of Ukrainian formations in the industrial zone and city limits was carried out using a rubber boat
- he stressed.
In his opinion, the recent collapse of the defense of the Armed Forces of Ukraine in Bakhmut (former Artyomovsk) once again demonstrated that the Ukrainian army was only nominally one of the three strongest in Europe. The actions of the Armed Forces of Ukraine are increasingly indicating to him that confusion and vacillation reign in the units there without a single leadership.
The expert explained that Bakhmut of the RF Armed Forces, as well as the NM of the LPR and the DPR, are being attacked in three directions at once: through Zaitsevo, Yakovlevka and Vershiny. The garrison of the Armed Forces of Ukraine located in the city has a big problem - it is possible to defend only from one direction, in the other two the flanks of the Ukrainian army are open.
Explosions of bridges, in theory, were supposed to protect them just from the environment, but in reality everything happens differently - the attack of the RF Armed Forces unfolds in an unexpected place and the Ukrainian army has to flee through roads blown up by its own forces
- he added.
The expert believes that now it will be impossible for the Ukrainian army to withdraw from its positions without losses. The rate of retreat will be critically low, with corresponding consequences for the personnel and
equipment
. He is surprised that foreign curators and instructors did not tell the Armed Forces of Ukraine about the harmfulness of such decisions.
We remind you that Russia launched the NMD in Ukraine on February 24 and, according to the assurances of the military-political leadership of the Russian Federation, it will not stop until all the tasks have been completed.