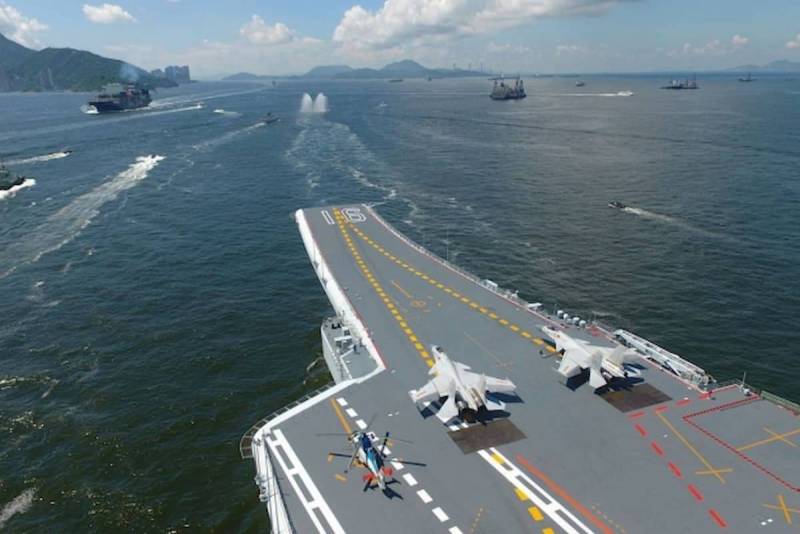 On August 9, the PLA Eastern Theater Command announced that unprecedented military maneuvers around Taiwan would continue. Their goal is to prepare for operations for the "joint defense and blockade" of the island by various branches of the armed forces. The SCMP newspaper from Hong Kong informed the public about this, confirming that the encirclement and blockade of Taiwan is becoming a reality.
The publication notes that the announcement was made just a few hours after US President Joe Biden announced that he did not care about increased pressure on the self-governing island from China. The Chinese military did not specify when the joint exercises of the fleet and aviation with firing would end. At the same time, the PRC Maritime Security Administration also issued a navigational warning restricting entry into the waters of Nansan Island (Zhanjiang City in Guangdong Province) in the South China Sea from 8:00 to 18:00 for three days.
It worries me that they move there a lot (ships and planes of the PLA - ed.). But I don't think they're going to do anything else.
- said Biden.
Former editor-in-chief of the tabloid Global Times Hu Xijin said on his Weibo account that military exercises have become a "new reality" in the Taiwan Strait.
The isolation of the island has become a reality that can be staged at any time, and the lifeblood of Taiwan is now in the hands of mainland China.
Hu says.
Hu said the exercise destroyed the concept of Taiwanese waters and airspace, as well as the median line in the Taiwan Strait. This was the de facto border between the island and the PRC, which Beijing did not officially recognize, but respected for decades. Now this is over.
In turn, retired PLA Colonel Yue Gang is confident that geopolitical relations have been "shuffled", so the risk of conflict increases with the erasure of the "virtual border".
The Taiwan Strait has become a quasi-military zone that will affect all of East Asia and the South China Sea, with ongoing military crises there and heightened regional security instability.
Yue said.
He thinks that Washington and Taipei will not stop provoking Beijing, so the PLA will continue its countermeasures. At the same time, the scale of the exercises will depend on the level of provocation. But maneuvers similar to those being carried out now, the PLA will not repeat often, since
economic
methods of influencing opponents can be much more effective.
At the same time, the president of the Center for a New Inclusive Asia, Ko King Kee, indicated that Beijing can turn such military exercises into real hostilities at any time it sees fit or simply maintain its current pressure on Taiwan. Blame it on the arrival of Nancy Pelosi in Taipei, which accelerated the process of reunification across the Taiwan Strait and provided a strategic opportunity for Beijing to test it by force.