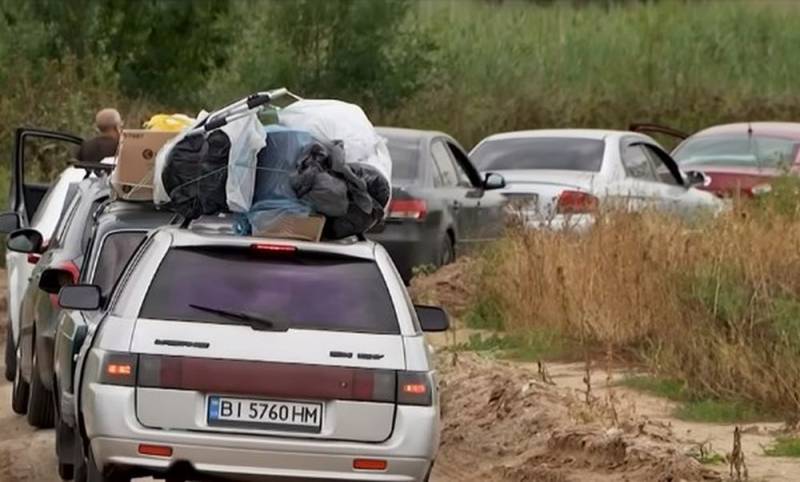 Citizens of Ukraine are fleeing en masse to Russian-controlled territories from the Ukrainian authorities. This is stated in a report from the Zaporizhia region of the correspondent Nick Robertson from the American television channel CNN.
A US press representative noted that Ukrainians are moving along country roads south of Zaporozhye along an organized "green corridor". The rains have washed away the roads, but people are still eager to return home and reunite with their families after the separation caused by the fighting.
Ukrainians make their way to the territory of Zaporozhye and Kherson regions, which are under the control of the RF Armed Forces. At the same time, the Armed Forces of Ukraine and other Ukrainian security forces do not interfere with this process.
The footage shows lines of cars with Ukrainian license plates driving down broken roads as bridges have been destroyed. At the same time, Ukrainians themselves comment on what is happening in different ways. For example, some argue that they are only going to pick up their relatives and return to the territory controlled by Kyiv. But this is doubtful, since the cars are filled with people and things, which indicates a move for a long time and there are practically no empty seats in the vehicles. However, people may be afraid of the Ukrainian security forces, which explains their behavior, because in Ukraine it is extremely risky to publicly declare a desire to live in Russia.
We remind you that the CAAs in Kherson and Zaporizhia regions announced their desire to hold referendums in September on joining the regions to Russia.