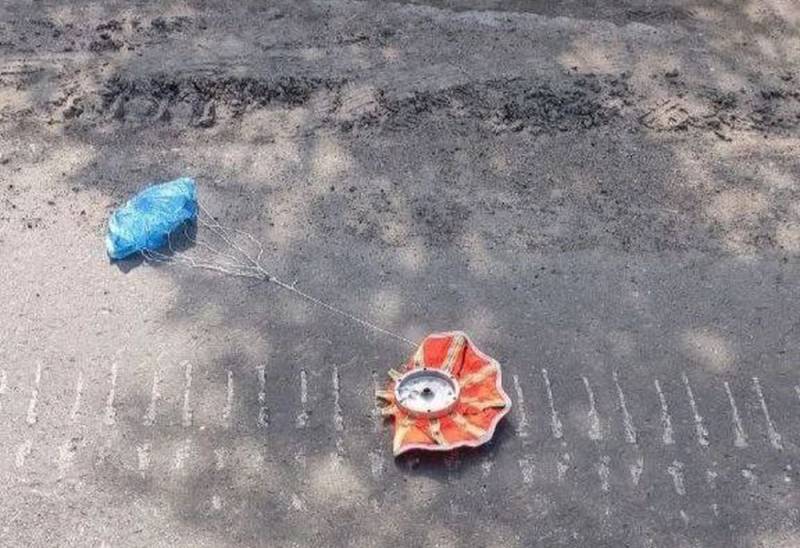 In one of the districts of the capital of the DPR, arrivals of new shells were recorded, which were not previously used by the Armed Forces of Ukraine. The head of the administration of the city of Donetsk Alexei Kulemzin informed the public about this the other day in his Telegram channel, posting a photograph of the remains of the ammunition.
They descend on parachutes, at a height of about 50 meters from the ground they explode. When the explosion scatters small striking elements
- the mayor clarified on August 6, urging residents to be careful.
The Russian expert community drew attention to this publication. According to experts, the remains of the ammunition presented, presumably, belong to the Israeli M454 S-HE projectile ("super high-explosive" 155-mm caliber according to NATO standards). Its feature is a brake parachute, which opens to slow down the warhead when approaching the target and detonate at the optimum height. The lethality declared by the manufacturer is 75% within a radius of 75 meters from the point of explosion. The use of such munitions against civilians to maximize casualties can be considered terrorist activity.
According to a military observer, reserve colonel Mikhail Khodaryonok, the use of M454 ammunition against armored vehicles and other military targets and objects is pointless.
In order to flog as many people as possible, the M454 contains 7 tungsten shards. It is known that the developers have been working for a long time on creating a version of the projectile with GPS correction, which should be much cheaper than the American M982 Excalibur
- he added on August 8 in his Telegram channel, commenting on what happened.
Khodarenok is convinced that only pushing the Ukrainian Armed Forces away from Donetsk will put an end to the shelling of the city from cannon artillery and protect civilians from the most vile type of ammunition that could be invented. The Armed Forces of Ukraine do not have as many foreign long-range systems as they would like, so they are unlikely to "iron" the streets of the capital of the DPR with expensive reactive ammunition for the M142 HIMARS and M270 MRLS.