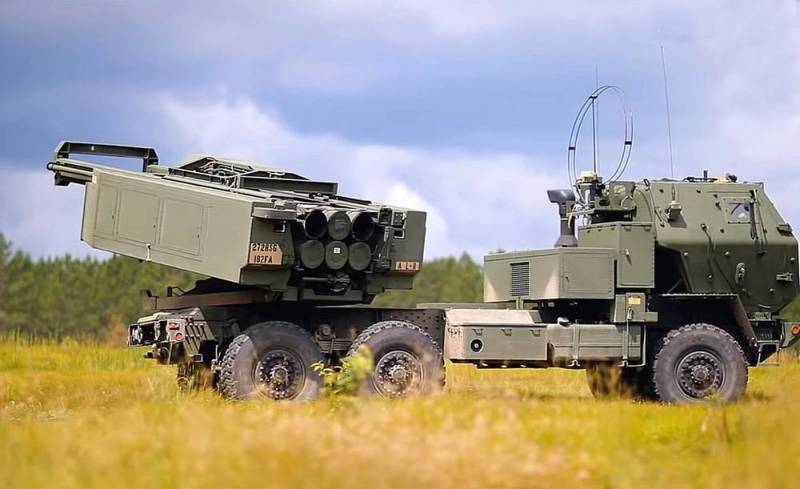 A video has appeared on the Web showing the destruction of an American-made M142 Haymars wheeled launcher (HIMARS) near the village of Stepnoye in the Mykolaiv region. This weapon system, recently delivered from the United States, combining MLRS and a fuel dispenser, fired at bridges in the Kherson region.
After another strike on the Antonovsky automobile bridge across the Dnieper in Kherson, the Ukrainian military settled in a forest belt not far from the mentioned settlement. They thought that they were well disguised and would calmly wait for the delivery of ammunition at this point in order to continue shelling. However, a Russian drone detected them and, as a result of counter-battery actions, the launcher was hit.
In addition, the day before, the Ministry of Defense reported in its report that during the counter-battery fight, a platoon of the Alder MLRS and HIMARS of the Ukrainian army was also destroyed near the village of Pyatigorskoye in the Kharkiv region. Thus, according to the statements of the Russian military department, the total number of destroyed HIMARS reached 6 units. At the same time, Washington handed over 16 units of such weapons systems to Kyiv.
Ukrainian authorities and the military traditionally deny the loss of HIMARS. However, the citizens of Ukraine themselves drew attention to the fact that a week ago the Armed Forces of Ukraine smartly reported about 9-10 destroyed warehouses and bases of the RF Armed Forces per day, and now they inform only about 4-5.
As for the Antonovsky automobile bridge, which was damaged as a result of shelling by the Armed Forces of Ukraine, because of which traffic was stopped on it, its restoration is already underway. According to Deputy Prime Minister of Russia Marat Khusnullin, the bridge will be repaired in the coming days and traffic will resume on it.