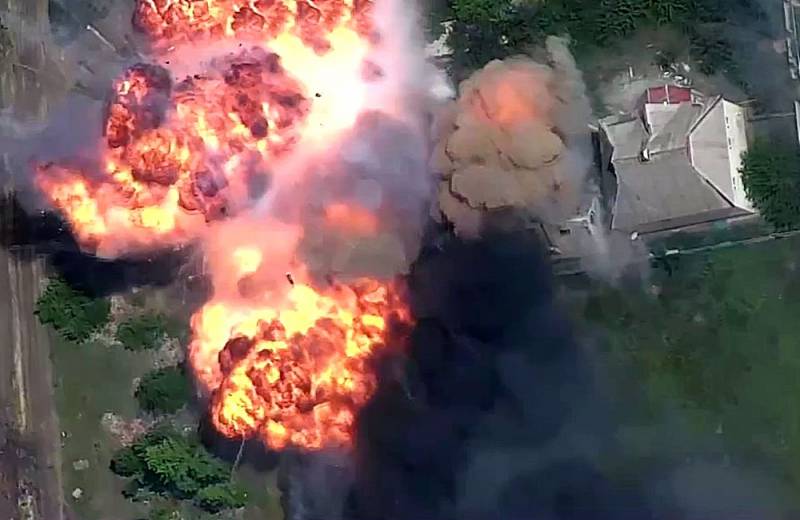 In the course of the Russian special operation on Ukrainian territory, documentary evidence from the scene periodically appears on social networks. On August 6, the Telegram channel "Hyacinth" published a video showing an accurate artillery strike on several tanks of the Armed Forces of Ukraine at once.
The footage shows how the 10th artillery brigade of the 2nd army corps of the LPR destroyed three tanks of the Ukrainian army "parked" near a private household. Camouflage between trees and next to buildings did not help the tankers.
Artillerymen worked in conjunction with a drone. Successful artillery fire was corrected from a reconnaissance UAV that was in the sky over the area. At the end of the video, the explosion of ammunition and its results are shown.
Users began to make different assumptions. Some thought that the video showed an episode of the battle for Lysichansk in the Donbass, which took place in late June - early July. Others thought that this was a unit of the Armed Forces of Ukraine in the Kherson region, taken by surprise, preparing for an offensive in southern Ukraine. However, the authors of the video did not disclose the details.
Upd. Friends, these tanks were destroyed not near Kherson, but in the open spaces of the LPR. I will not say more specifically - strategic information. In fairness, I will say that information is protected for a reason. Knowing the place and time of shooting, a lot of things can be determined from the video
- explained in the publication under the video.
We remind you that in early July, the entire territory of the LPR was liberated from Ukrainian troops. Currently, the process of liberation of the DPR is underway.